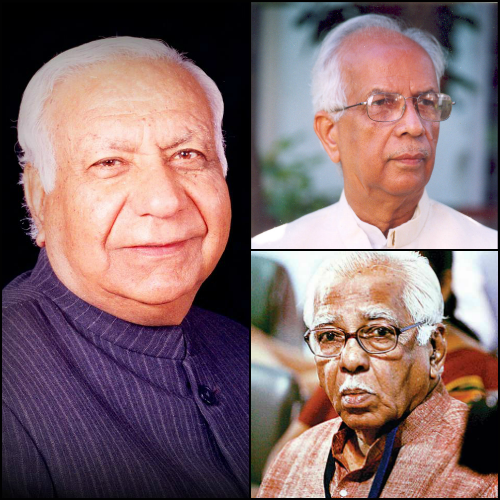 BJP leader Ram Naik has been appointed to be the next Governor of Uttar Pradesh, filling a position vacated by BL Joshi, the Rashtrapati Bhavan informed, on Monday.
Other BJP leaders—OP Kohli, Balramji Das Tandon and Keshari Nath Tripathi have also been designated to be new Governors for Gujarat, Chhattisgarh and West Bengal respectively. Likewise Padmanabha Balakrishna Acharya will take the position as the Nagaland Governor replacing .
Earlier last month, witnessed an series of resignation by UPA appointed governors after an uproar that concluded in the eventual exit of seven state governors including Joshi,Chhattisgarh Governor Shekhar Dutt, and others.
'If I was in their place, I would quit' says Rajnath Singh over ' governors resignation row'
After Uttar Pradesh governor Joshi's resignation, rumours about BJP trying to oust governor's elected by UPA government made the rounds. Rumours were strife that even Lt governor Najeeb Jung could have to resign after he failed to sort out the power cut problems in Delhi. In a rather stoic choice of words, BJP's Rajnath Singh commented on the issue by saying, "If I was in their place, I would have quit too." This clearly brings to the forefront, the cross issue of different governments trying to provide safe position for their leaders as governors. it can be clearly stated that when Arvind Kejriwal took over as CM of Delhi after defeating Sheila Dixit, UPA government gave her the role of Kerala's governor. Read more
ALSO READ: Margaret Alva sworn in as Goa Governor
NDA government's move to replace governors politically motivated, says Congress
The opposition Congress party has termed the alleged move of the NDA-led government at the Centre to replace six UPA-appointed governors as politically motivated. Congress leader Shobha Oza said, "Governors and all commissions have a fixed tenure, and I believe that all governments must allow them to complete their tenure." Read more
ALSO READ: Tit for tat? NDA governor UPA sacked; the UPA governor NDA wants to sack
Two Governors - HR Bhardwaj (Karnataka) and Devanand Konwar (Tripura) - retired late last month, while a few days ago, Lt Governor of Puducherry Virendra Kataria was sacked by the government.
A few other Governors appointed by the previous UPA regime, however, continue to remain in office despite the NDA government's pressure. They include K Sankaranarayanan (Maharashtra), Sheila Dikshit (Kerala), Jaganath Pahadia (Haryana) and Shivraj V Patil (Punjab). Kerala Governor Dikshit and Maharashtra Governor Sankaranarayanan may also be transferred to northeastern states, the sources said.