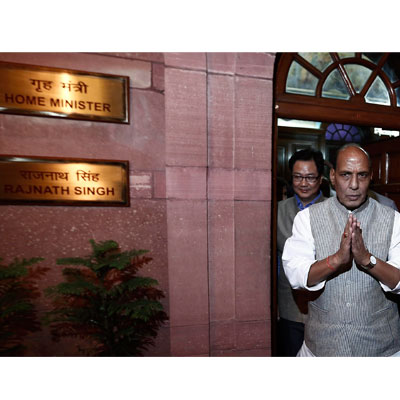 After Uttar Pradesh governor BL Joshi resigned today, rumours about BJP trying to oust governor's elected by UPA government are making the rounds. Rumours are strife that even Lt governor Najeeb Jung may have to resign after he failed to sort out the power cut problems in Delhi.
In a rather stoic choice of words, BJP's Rajnath Singh commented on the issue by saying, "If I was in their place, I would have quit too." This clearly brings to the forefront, the cross issue of different governments trying to provide safe position for their leaders as governors. it can be clearly stated that when Arvind Kejriwal took over as CM of Delhi after defeating Sheila Dixit, UPA government gave her the role of Kerala's governor.
#dnaArchives- Read: Sheila Dikshit appointed Kerala Governor
Move to remove Governors political vendetta: Ghulam Nabi Azad
Congress today slammed the government's move to remove Governors appointed during the UPA tenure as "political vendetta" and said the "dictatorial" step will have "serious repercussions".
Leader of the Opposition in the Rajya Sabha Ghulam Nabi Azad reminded the government about the May 2010 judgement of the Supreme Court and said the Centre does not have the brief to remove the Governors "in arbitrary and capricious manner with the change of power".
In a statement here, Azad called the "move to remove the Governors of various states as dictatorial".
He lamented that the NDA government, instead of fulfilling its electoral promises, is trying to divert the attention of the nation by indulging in "political vendetta".
The former Union Minister described the idea as being "against the very grain of democratic traditions and constitutional propriety".
If at all taken forward, the move will be "fraught with serious repercussions and have a debilitating impact on our constitutional democracy", Azad said.
His statement came amid reports that the government has asked a number of Governors appointed during the UPA tenure to quit.
Read the full report here: Uttar Pradesh's Governor BL Joshi resigns; rumours about HR Bharadwaj and JB Patnaik quitting turn out to be false