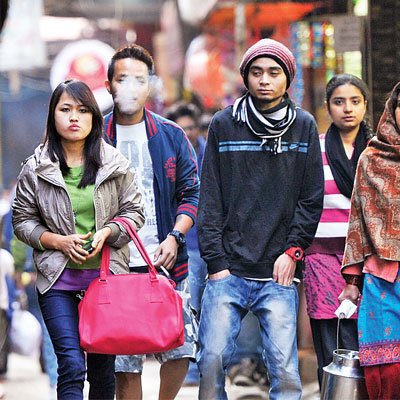 The Delhi police allayed fears of the northeast community in south Delhi's Munirka neighbourhood on Monday evening after day-long tweets about their forcible eviction sparked rumours of discrimination and harassment.
The police intervened and met Munirka residents and northeast activists to prevent further strain on the community that has witnessed a spate of violent attacks in recent weeks, including the rape of a minor Manipuri girl in Munirka itself. According to rough estimates, nearly 50,000 people from the northeast stay in Munirka village — a cluster of multi-storey concrete hamlets with dark alleys even during the day.
The Munirka Resident Welfare Association meanwhile has about 22,000 families.
Activist Binalakshmi Nepram on Monday morning posted a tweet saying: "Receiving sad/shocking news #KhapPanchayat of #Munirka held meeting yday/took decision to force tenants fm Northeast 2 vacate area @PMOIndia." This triggered widespread condemnation on social media. Delhi does not have any khap panchayats and the resident welfare association said that none of its members had threatened any of the community members. Northeast activists, however, alleged that 'khap panchayat type diktats' were issued in the residents' last meeting.
The Delhi police, who mediated the meeting, assured northeast community members that it would increase patrolling in the area to prevent untoward incidents and also directed locals not to encourage or initiate any discriminatory practice. The police too denied the existence of any khap panchayat.
Binalakshmi told dna that there were some "khap panchayat decisions" and the police intervention had helped control things. "They would not announce their khap decisions publicly but there was racial profiling happening and people being threatened," she said.
Immediately, after the meeting, Binalakshmi tweeted: "Peace now after many hours of struggle. Hope we maintain this peace. After all its 1 country for all of us. Thank you all who gave ur support!"
Munirka residents requested the police to ensure closure of shops in the area by 10.30pm to prevent 'anti-social' elements from gathering in the area at night even as the residents' body will install 150 CCTV cameras in the interiors of Munirka village to keep a check on criminal activities.
Bharat Singh Rathi, general secretary of RWA maintained that many "outsiders" create ruckus in the area at night, making it impossible for locals to venture out. "Many antisocial elements get drunk and pee in front of our doors, hurl abuses and many a time fight obscenely with each other," said Rathi. "We want an end to all of this. We have written to police and met them as well."
Munirka's northeaster residents however said that there has been no widespread campaign to throw them out of their homes. "I am not aware of any such threat. I came to know about it only through television and reporters inquiring about it," said Phoolmati of Manipur, who runs the Vakthungsha fast food shop in the area and has been living there for around 22 years.
Kevin, a student living in Munirka for more than four years, too denied harassment or knowledge of diktats allegedly issued by landlords.