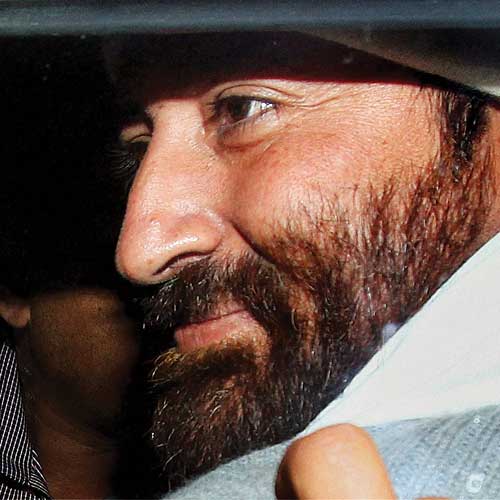 The two month hide-and-seek of Narayan Sai, son of controversial godman Asaram and who has been evading arrest in a rape case, ended on Wednesday morning, when crime branch officials of the Delhi Police nabbed him along with his two accomplices near Haryana border.
Sai, carrying a reward of Rs 5 lakh, was brought to the national capital and produced before a court, which granted 24-hour transit remand to Gujarat Police. The rape case is registered against him in that state.
He was traveling with his driver Ramesh Malhotra, PSO Kaushal Thakur, and another juvenile disciple in a Ford EcoSport car near Pipli village in Kurukshetra area, and had plans to come to Delhi. Investigators claim that he had to meet an advocate here assuming that he could safely land in national capital as the police would be busy in assembly elections.
While Sai, in a badly attempted disguise, was wearing a turban like headgear, his driver initially tried to sway police men by using a fake name. However, things were clear once the arrested trio was interrogated in detail and brought to the capital.
According to police, Sai had lived in Gujarat, Ludhiana, Haridwar and for two days in Delhi, after he went into hiding. The car he was using all this while was provided by Diwan family from Meerut, who happen to be his disciples. The police have recovered six mobile phones and Rs 2.61 lakh from them.
"A team of Delhi police stationed in Ambala received input that Sai has left Ludhiana in an EcoSport car and they followed the car before intercepting it in Kurukshetra. Crime branch teams were stationed in Ludhiana, Rajpura, Zirakpur, Chandigarh, Ambala and Meerut," joint commissioner of police (crime) SBK Singh told dna.
Surat police had registered two complaints — one against Asaram and the other against Sai — of rape, sexual assault, illegal confinement and other charges. The younger of the two sisters who filed complaint against the father-son duo accused Sai of repeated sexual assault between 2002 and 2005 when she was living at the Surat ashram. The elder sister, in her complaint against Asaram, has accused him of repeated sexual assault between 1997 and 2006 during the time she was living at his ashram on the outskirts of Ahmedabad.
A team of Gujarat police had landed in Delhi in mid-October seeking help of the crime branch of Delhi police. The Gujarat police had also carried out several raids at Asaram's ashrams at Rohini, Najafgarh, Jafarpur Kalan and on Ridge Road but failed to trace Sai.
The Delhi Police zeroed in on Sai after the arrest of one of his accomplices, Dharmesh, in October. While he had no idea about Sai, he gave details about acquaintances of Sai's driver Ramesh in Rohini. Ramesh's acquaintance led the police to some of his phone numbers and possible hideouts, after which the police sent some teams to Ludhiana.
Meanwhile, when Sai, was taken to Ambedkar hospital for medical examination, he told reporters that he was being framed. His supporters not only created ruckus outside the hospital, but gathered outside Rohini court as well, shouting slogans in support of the accused father-son duo.
Asaram is in judicial custody in Jodhpur jail since his arrest in September for allegedly sexually assaulting a minor.
Victim happy
Surat: The victim who was raped by Narayan Sai on Wednesday demanded the severest form of punishment for him. "I am extremely happy today. Finally, I will be able to eat with peace, as I was not able to sleep for nights since the time I filed an FIR against him ... I wish he gets the severest form of punishment ," she said.