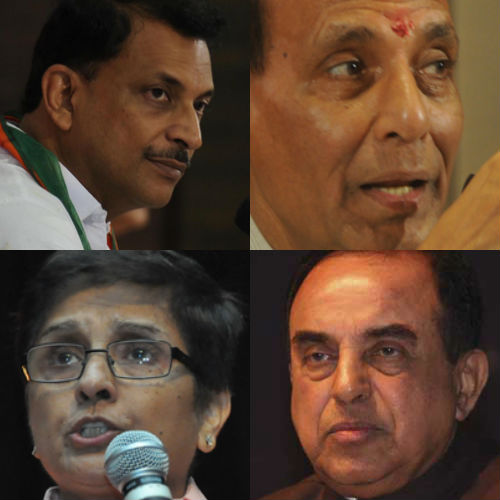 Even though the Lok Sabha elections are over, the political tussle between BJP and Congress is back in the news. This tiff started with the the Centre considering to replace seven governors, who were appointed during Congress led UPA-II tenure, before their term came to an end. The tension escalated when Uttar Pradesh Governor BL Joshi made the bold decision to quit.
On the other hand, Karnataka Governor HR Bharadwaj and Assam Governor JB Patnaik have refuted rumours of of their resignation. While the speculations of who will quit and who won't continue, BJP leaders seem to be voicing opinions, pressing the former UPA governors to quit.
The most prominent remark that came was from BJP appointed Home Minister, Rajnath Singh. "If I was in their place, I would have quit too." he lamented, when asked regarding the rumours of governors quitting.
Read More: 'If I was in their place, I would quit' says Rajnath Singh over 'resignation row'
Other BJP leaders were not far behind. Kiran Bedi, a popular BJP spokesperson, made a stoic comment, "Appointment which are by a political party in power, with change of mandate, self respecting appointees should offer to resign, unless asked to stay."
Appointments which are by a poli-party in power,with change of mandate, self respecting appointees shud offer to resign,unless asked to stay

— Kiran Bedi (@thekiranbedi) June 17, 2014
While there were allegations that the BJP was acting in an unlawful manner by removing the governors, Bedi once again took to the defence of the BJP. "There are legal and political issues concerning the change of governors. Legal is Supreme Courts judgment of May 2010 laying the grounds. Political is Mandate!" she added.
There r legal & political issues concerning change of Governors.Legal is SC judgment of May 2010 laying d grounds!! Political is mandate!!

— Kiran Bedi (@thekiranbedi) June 17, 2014
Read More: NDA government's move to replace governors politically motivated, says Congress
BJP leader Laxmikant Bajpai also took a stand by asserting that, "With a new central Govt,its an expected process,so BL Joshi ji(UP Governor) by resigning has done the right thing." Rajiv Pratap Rudy joined the growing chorus by adding, "NDA Govt is only following tradition, Governors should resign themselves when a new Govt comes."
While some BJP leaders defended the action by calling it an appropriate reaction to what the UPA has been following for years. In the tit for tat game, Joginder Singh commented saying, " UPA came to power in '04 & wrote to governors to resign. They are reaping what they sowed."
Read More: Tit for tat? NDA governors UPA sacked; the UPA governors NDA wants to sack
This action isn't very different from what the Congress-led UPA had undertaken when they came to power in 2004, replacing the NDA government. The UPA, too, had asked for Governors to be removed ahead of their term. Haryana's Babu Parmanand, Uttar Pradesh's Vishnu Kant Shastri, Goa's Kidar Nath Sahani and Gujarat's Kailashpati Mishra were among those who were replaced by the UPA government.
BJP leader Subramanian Swamy went on to criticise the merits upon which Congress leader Sonia Gandhi had chosen the governors in the first place. "Governors should have resigned themselves,most of them were appointed by Sonia Gandhi and not on merit" he said.
The resultant vacancies could help the BJP assuage disgruntled leaders like Lalji Tandon, Kailash Joshi, Kalyan Singh, Balram Das Tandon, KC Nath Tripathi and VK Malhotra who could not fight elections.