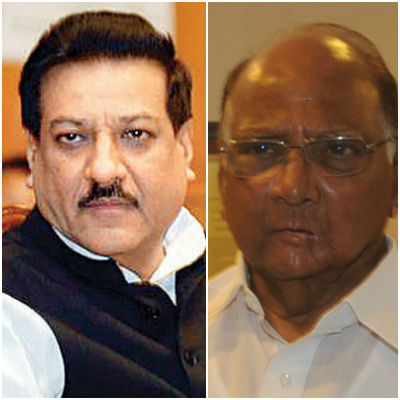 Maharashtra chief minister Prithviraj Chavan's fate hangs in balance, as the National Congress Party (NCP) chief Sharad Pawar pushed hard for his removal to pave way for a fresh face ahead of Assembly elections scheduled in September.
Congress president Sonia Gandhi's political advisor Ahmed Patel and former defence minister AK Antony called on Pawar at his residence on Thursday, to discuss alliance, seat sharing and poll preparations in the state.
Coming out of Pawar's house, Ahmed Patel said the meeting was only to discuss the seat-sharing in Maharashtra and there was no discussion on the change of guard. The general secretary in-charge Mohan Prakash also told reporters in All India Congress Committee (AICC) that there was no plan to change Chavan at this moment.
But a source close to Congress president put it that there was 50-50 chance of removal of Chavan, as Mrs Gandhi was not inclined to rock boats with the alliance partner Nationalist Congress Party (NCP) at this moment. The Congress--NCP partnership, which has ruled the since 1999, was decimated by the Bharatiya Janata Party (BJP)-Shiv Sena combine last month in Lok Sabha elections.
After meeting Pawar, the two senior Congress leaders went to 10-Janpath to brief Mrs Gandhi.
Sources said Pawar has favoured former Home Minister Sushil Kumar Shinde as the next chief minister. Shinde, however, is convalescing from an eye operation in Boston in the USA. Pawar wants a replacement without any loss of time.
Other names under discussion for chief ministership are the state's Revenue Minister Balasaheb Thorat and Vikhe Patil, Maharashtra's Agricultural Minister.
Pawar is also said to have met the Bahujan Samaj Party (BSP) chief Mayawati also during the day. Sources here said he has conveyed Patel to discuss with Sonia Gandhi the prospects of including the BSP also in the alliance to contest polls together. Pawar's calculations seems that under a Dalit CM Shinde, together with the support of Mayawati can blunt the edge of BJP-Shiv Sena and RPI combine.
The BSP has 3% votes in Maharashtra, with higher percentage in Vidarbha.
Maharashtra minister Patang Rao Kadam also called on Sonia on Thrusday, but refused to part with details.
Chavan's clean image was the primary reason for him being made chief minister in 2010.
He replaced another Maratha face Ashok Chavan, who was found involved in Adarsh housing scam. But the chief minister been continuously under fire for his indecisions and ignoring party workers.
Sources also say the Chavan's replacement could also trigger change of guard in Assam and Haryana as well, where polls are also due later this year. The party is also squirming to break alliance with the National Conference (NC) in Jammu and Kashmir, which is also going to polls by the end of this year.
There are, however, some senior leaders in Delhi who insist that there is no point in making the change of the CM at this late stage. Sources say the feedback from the state leaders is that only a new chief minister can reignite the hope as otherwise the ruling coalition is all set to suffer a stunning defeat.