As the Lok sabha elections intensify, we take a look at the most debated Gujarat development model that has been the anchor for Narendra Modi's speeches. Here, we compile a list of what experts have spoken about the model in different media.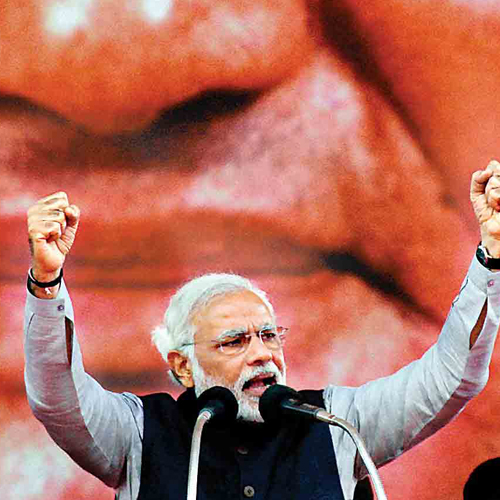 In a television interview, Congress leader Rahul Gandhi tore apart Gujarat Chief Minister Narendra Modi's developmental claims by stating that the whole euphoria around 'Gujarat model' was part of marketing gimmicks and nothing else.
He questioned Modi for giving away land at throwaway prices and destruction of textile industry in the state. Plus, BJP's manifesto and Modi's speeches revolve around Gujarat's model of development.
Hence we have compiled a list of what experts have to say about Gujarat's development model in different media:
Maitreesh Ghatak and Sanchari Roy for dna:
According to an exclusive piece for dna, Ghatak and Roy wrote about debates over Gujarat's development model and put forth arguements stating that other states have done the same as Gujarat in terms of GDP and growth.
According to them, other states such as Maharashtra and Haryana have been going neck and neck at the top of the growth rate rankings over the last three decades but no one is talking about the Maharashtra model or the Haryana model of development.
What they had to say: While Gujarat's overall economic record is undoubtedly good all through the last three decades compared to other states, its performance in the 2000s does not seem to justify the wild euphoria and exuberant optimism about Modi's economic leadership.The Gujarat story has dominated the media, but there are also the Bihar story, the Tamil Nadu story, and of course, the Maharashtra and Kerala stories. Singling out Gujarat for praise, while ignoring the rest of the leading contenders, seems disingenuous.
Also read: Narendra Modi's Gujarat development model is based on crony capitalism and marketing: Rahul Gandhi in television interview
Kamal Nayan Kabra for Mainstream Weekly:
Kamal Narayan Kabra talks about the Gujarat development model and states that Gujarat as a state with policies is akin to the rest of India and patchy generalisations about development models pose a question to other states of India to rethink about the development issue.
What does he say: A State such as Gujarat has never been strong on grassroots commitments owing to its socio-economic structure. That may well be among the factors which make the BJP a srong force and throw up an aggressive leadership with a ruthlessness characteristic of the neo-rich.
How far can the support of the strong NRI community originating from Gujarat go is also something of an imponderable. With the rising capital-intensity of growth and growing backlog of the people without a secure and adequate means of livelihood and in the absence of any alternative agenda and mobilisa-tion forthcoming, Gujarat, like much of the rest of India is entering highly choppy and uncertain waters.
Maitreesh Ghatak and Sanchari Roy for Guardian:
In an analysis for the series 'Ideas for India' for Guardian, Maitreesh Ghatak and Sanchari Roy talk about Gujarat's development model in detail. They state that Gujarat's development and growth has been impressive but it was similar even before Narendra Modi took charge of the state at the helm of affairs.
They say that other states have done way better in terms of growth and have received appreciation for their efforts (Maharashtra, Bihar).
The extended version of their essay, published by Ideas for India reserves praise for Bihar instead, since the state seems to have turned around after long years of stagnation.
Here's what they had to say: Though Modi's stock is rising high, evidence for the success of Modinomics is unconvincing. For those frustrated with the status quo and hoping for a magical turnaround of the Indian economy if Modi comes to power, it may be wise to think about lessons from the stock market. At some point all bubbles burst – and the numbers have to add up.
Arvind Panagriya for Tehelka:
Arvind has cited research documents obtained from Rahul Dholakiya of IIM stating that claims such as Gujarat always grew at the same pace was opposition's ploy to debunk Modi's development model.
What he had to say: It is also true that Tamil Nadu often leads in improvements in the indicators. But this hardly detracts from the impressive progress Gujarat has made in improving literacy and many health indicators. The critics want to turn the best into the enemy of the good to give a walkover to the bad, but that won't work.
Finally, critics argue that state-level experience is irrelevant to governing a nation. But this is incorrect for two reasons. First, Gujarat is not a banana republic: it is approximately equivalent to the UK in population and area. Second, a CM brings with him valuable grassroots knowledge that modern-day national leaders often lack.
Ashok Kotwal and Arka Roy Chaudhuri for Indian Express:
In a collaborative piece to Indian Express, Kotwal and Chaudhuri state that Gujarat presents a perplexing case that has done much better than many states on growth but has performed much worse in terms of developmental outcomes.
What they said: "Despite the fact that Gujarat grew faster than most other states during the decade of 2001-11, its per capita expenditure is not only not at the top of the chart but has slipped further to the 12th position. Equally surprising are its ranks in, one, the extent of poverty and, two, female literacy: they are smack in the middle of the list at 14th and 15th respectively, showing no improvement by 2011-12 despite fast growth. It does show some improvement in its ranking for 'Infant Mortality Ratio' from 19th to 17th, though the record of being in the lower half of the class is still disappointing for such a fast growing state," wrote Kotwal and Chaudhuri.
Also read: The Narendra Modi TV interview: I went to IIM to learn management, 'saheb' title made me feel uncomfortable
Prof YK Singh for Mint:
Prof YK Alagh, the chancellor of the Central University of Gujarat and a former Union minister provides a balanced view and states: "while there was nothing new about Gujarat's manufacturing prowess, maintaining a high agricultural growth rate over the past decade is indeed credit-worthy. Agreeing with most other scholars on the subject, Alagh said that Gujarat's performance on social inclusion is weak despite its impressive growth performance."
Also read: Narendra Modi walks away victorious from 'Aap Ki Adalat'
Goldman sachs:
According to Goldman Sachs report, India can add 40 million jobs in the next decade if states follow flexible laws such as in Gujarat, US investment bank Goldman Sachs said on Friday while reforms can add 110 million jobs in the next 10 years.
.What the report says: "As a new government takes charge from mid-2014, we see labour market reforms as a critical ingredient to accelerate India's growth rate,"
Here's something for readers to analyse:
Human Development: Inter-State Comparisons
*In 2011, Kerala has the highest sex ratio with 1084 females per 1000 males, followed by Tamil Nadu, while Haryana is at the bottom
*The best performers in terms of growth during 2011-12 are Bihar followed by Madhya Pradesh and Maharashtra
*Bihar has the highest decadal (2001-11) growth rate of population while Kerala has the lowest rate
* In terms of decadal growth rate in bank branches, Haryana has the highest growth and Bihar the lowest
*Kerala is the best performer in terms of life expectancy at birth for both males and females whereas Assam is the worst performer for both males and females during 2006-10
Also watch:
You may also want to check this debate over Gujarat's model of development here: Labour and Employment under Globalisation: The Case of Gujarat