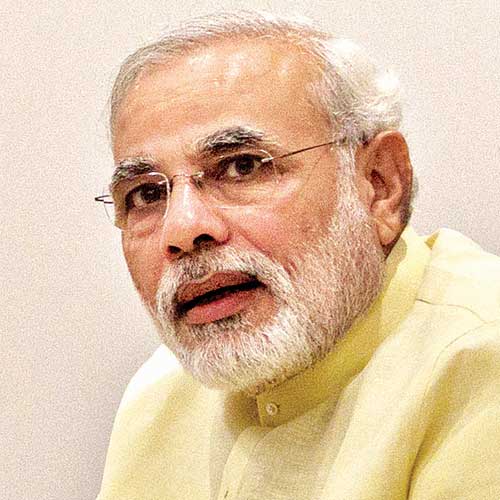 With the Lok Sabha elections around the corner, there is a war of words between BJP and Congress over Gujarat's development model, anti-incumbency factor and election agenda. Add to this Imran Masood's viral video about chopping BJP's Prime Ministerial candidate that received social media ire and his subsequent arrest. No wonder then that Narendra Modi's interview with a television channel was awaited with much anticipation last week.
People wanted to know if Modi would talk about the incident and the upcoming elections as well, but the interview fell short of expectations. The interview was expected to be somewhat similar to Rahul Gandhi's interview by many, but it turned out to be a one-sided outdated affair. Narendra Modi hasn't given any television interviews till date (since being anointed as PM candidate) and this was supposed to be his grand debut.
What transpired was a close-up footage of Modi which gave a glimpse of his perception about governance, his jitters while taking up the CM's post and how he studied at IIM.
The one-sided interview in a dimly-lit office appeared to be a series of monologues with constant breaks and no questions. While, interviewer Madhu Kishwar made an appearance at the end, it was made clear that the interview was part of a series that were documented by the journalist while researching for a book in Gujarat.
Below are the highlights of the interview:
* "When I took over as Gujarat CM, the media was hostile towards me. The general belief was that Modi looted Keshubhai and used his connections to dump Keshubhai Patel. The negative media coverage against me when I took over as Gujarat CM suited the Congress the most," said Narendra Modi on the issue of taking over CM's role in Gujarat.
* "The Chief Secretary, Mr Subbarao, who was older than me, called me saheb but I felt uncomfortable. Coming from a simple, humble background, I had only heard people calling me bhai or Narendraji," Modi told in an interview to a television channel.
* "The message of my sincerity was delivered within 100 days after I took over as Gujarat CM through my actions," Modi said while explaining how he dealt with issues like austerity and increasing the productivity of government officials in his first few days as the state's chief minister.
* "Empowerment was my basic priority. I empowered the officers to take decisions instead of them having to wait for approval from the top," Modi said while explaining how officers needed authority to take decisions after the disaster of Bhuj and he took this step to disseminate power structure.
* "I went to IIM to learn management after becoming the chief minister," he said.
Though the revelations were interesting and there is high anticipation for the other clippings, Twitter was buzzing with activity as people were confused about the nature of the interview.
Below are some tweets:
@narendramodi Dear MODI ji just heard you on news X. It really touched me. I am very happy that nation is going touch new height with you.

— Ganesh shankar Singh (@gssingh86) March 29, 2014
But where is the interview? What News X is showing in the name of Narendra Modi's interview is 'Macbeth's Monologue' #modimonologue

— Pawan Khera (@Pawankhera) March 29, 2014
Narendra Modi's great interview with News X sticks with bad lighting, grey wall, as if stuck in conference room.

— Sandip Roy (@sandipr) March 29, 2014
The Narendra Modi interview on News X is rubbish. Never seen such poor audio quality and such a badly conducted interview on mainstream TV

— Abhishek Shetty (@abhishek_shetty) March 29, 2014
This is truly bizarre. The only time we hear Madhu Kishwar is when she is giggling adoringly while Narendra Modi drones on

— Seema Goswami (@seemagoswami) March 29, 2014
Just curious, NaMo gave the interview to Madhu Kishwar, the feminist , the activist , the apologist or the journalist ?

— Rana Ayyub (@RanaAyyub) March 29, 2014
Because yesterday's pilot was so scintillating,NewsX is rebroadcasting a large chunk of yesterday's interview of Modi by Madhu Kishwar.

— rupa subramanya (@rupasubramanya) March 30, 2014
More than lack of questions & Modi's monologue, what's really striking about this 'interview' is the voice over that speaks Mr. Modi's mind

— Ruchica Tomar (@ruchicatomar) March 29, 2014
So this Modi-Madhu "Interview" was some recordings for her book on Modi. That explains the poor audio. Got pissed in 10secs.

— Gaurav (@bwoyblunder) March 29, 2014
Is Madhu using a hidden camera to interview Modi? #KishwarModi

— Overrated Outcast (@over_rated) March 29, 2014