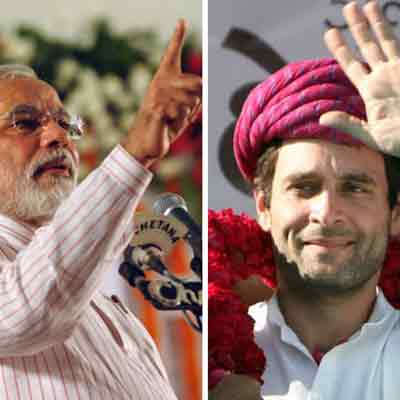 Rahul Gandhi's earlier interview with a television channel had ended with some unsavoury remarks and pitfalls. Gandhi scion had received a thumbs down for his responses to 1984 riots and this had put Congress party in a tight spot.
Come again and as Lok Sabha elections draw nearer, Rahul Gandhi gave an interview to a hindi news channel.
Without explicitly mentioning any group by name, the Congress vice president alluded to it when he said, "land equal to Vadodara was given to him. Do you know for how much? For Rs 300 crore. Coastline equal to Mumbai was also given to him."
He was asked specifically during the interview on Aajtak whether he was referring to the Adani group to which he said he would not like to name anybody.
Vadodara has an area of 149 square kilometers and the Mumbai coastline is 167 km long.
"When Gujarat grew, it was because of the small industries, because of movements like Amul and that is its strength. Now you see the Gujarat model, the turnover of one industrialist has grown from Rs 3,000 crore to Rs 40,000 crore," the Congress Vice President said.
He went on to add that Modi's economic model is that the "entire money of the state should be given to two-three persons. This mindset is also dangerous for the country. I keep fighting against such mindset."
"Gujarat model is based on crony capitalism and marketing hype," said Rahul Gandhi. He further added that Gujarat government headed by Narendra Modi had favoured some businessmen to make profits and had destroyed the textile industry.
On RTI, he said, " Congress takes institutional steps and fighting corruption is a long journey."
Targetting BJP's Prime Ministerial candidate Narendra Modi and BJP's power play, he said, "BJP has just one man who knows about anything and everything on earth and this man claims to change India by becoming chowkidar of the country.."
He went a step further and added that India's method of selecting candidates has to change and instead of parties, public should be allowed to select their candidates. he gave an example of elections in United States and how Barack Obama was made the President of United states.
"Don't kill the idea. My idea that people have to select party members has created fire in party workers to do better", said Rahul Gandhi.
On Congress' manifesto and campaign, he said, "Our campaign is not personalised. Narendra Modiji is a man. He has issues and I am not interested in his problems. But, he represents and idea and I am against it. Any divisive thought will destroy India and I am against it."
Taking a dig at Narendra Modi and his PM candidature, he said, "Whatever BJP is doing is actually not constitiutional and during elections, only MP's can select PM. If they select me, I will not stay behind."
Congress vice president Rahul Gandhi Saturday rubbished opinion polls that have predicted victory for the BJP-led NDA in the Lok Sabha polls.
"The BJP is good in marketing, but at the end, results count. They did good marketing in 2004, but you saw the results," Gandhi said in an interview to Headlines Today, his second to a TV news channel in recent times.
Replying to a question on why the Congress was lagging behind the Bharatiya Janata Party in the election campaign, Gandhi said the Congress' base rested in the poor, and the voice of the poor is generally sidelined.
"Our thinking is to give more and more rights to the poor. We want to give them a support system. Development is necessary but we have to also prepare human resources. That human resource will come from the poor," he said.
He also spoke about India's development and said, "Reality is partnerships will take India forward. Otherwise India will not grow forward. Partnerships happen with love and not anger. India's future is very optimistic as compared to other countries of the world. China is first and India is second and In five-seven years, we will defeat China."
Below are Rahul Gandhi's pointers from the interview:
-We ran government for ten years and constructed roads and gave electricity to rural India.
-Congress brought 15 crore Indians out of BPL (Below poverty line)
-We don't have glitz and marketing Programs and information like BJP.
-Congress understood public's issues and pain