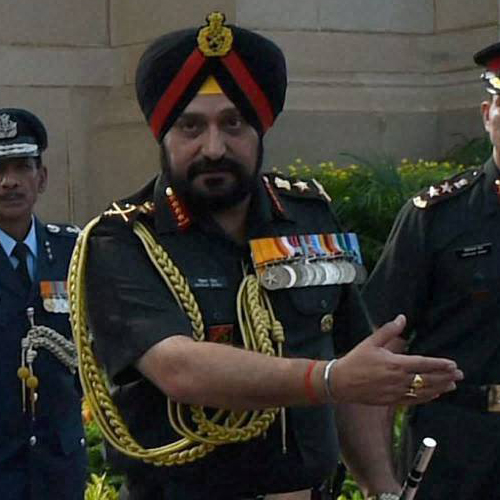 Outgoing Army Chief Gen Bikram Singh today said that India has given a befitting reply to Pakistan after the beheading of an Indian soldier by Pakistani troops in 2013 along the Line of Control (LoC) even as he did not rule out the possibility of skirmishes on the western front in future.
Talking to reporters before demitting office, he admitted that face-offs between Indian and Chinese Army soldiers take place while patrolling their 'claimed areas' along the Line of Actual Control (LAC) but they are dealt with in accordance with the existing mechanisms.
Asked if India had given a befitting reply after the January 8, 2013 beheading incident, he said, "It has been done. Please understand that when we use force, that use is from tactical to operational to strategic levels. "When I mention that during that incident, it was aimed at operations at the tactical level, which have been undertaken. I think this has been done by the local commander, the chiefs have nothing to do with it," Gen Singh said.
After the incident, he had said during a press conference that the Army will retaliate at a time and place of its choosing. He had given the statement six days after the incident in which Pakistani Special Forces and terrorists beheaded Lance Naik Hemraj and mutilated the body of another jawan Lance Naik Sudhakar Singh along the LoC in Poonch sector of Jammu and Kashmir.
On if there was a possibility of a skirmish with China and Pakistan, he said there was no such possibility with China, saying, "I do not foresee this as we have got robust mechanisms which are in place. There is an understanding at the macro level. "When I went to China, there was tremendous understanding between the two countries and I do not foresee any contingency of a skirmish and (there are) very comprehensive rules of engagements."
On Pakistan, he said, "On the western front, you know very well that it is the Line of Control which has traditionally been very active border and at the tactical level, there is firing always from across the border."