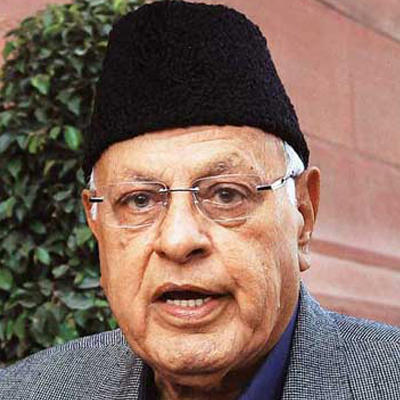 Union Minister and National Conference president Farooq Abdullah today filed his nomination for Srinagar Lok Sabha seat going to polls on April 30.
Abdullah, accompanied by his son and Jammu and Kashmir Chief Minister Omar Abdullah and state Congress head Saifuddin Soz, submitted his papers before the Returning Officer.
Talking to reporters after filing his papers, Abdullah alleged the BJP leaders are "liars" and asserted his party will never allow Article 370 to be abolished.
"The BJP leaders are wrong. They are liars. As far as Article 370 is concerned, they had said they want to discuss the issue, but no such talks happened.
"I understand their only purpose is to abolish Article 370. And that is their long-term plan. Talks about discussions are mere excuses," he said.
"But as long as we are alive we will not allow it to happen. The National Conference, the Congress and some other national parties are united and will not let anyone to play with the issue," Abdullah said.
There is no Modi wave in the country and contrary to it, the graph of the Congress is rising, the NC patriarch said.
"But, you cannot say what will happen tomorrow. The real picture will be out only on May 16. The Congress and its allies will sit together and analyse the results and then decide the next course of action," he said.