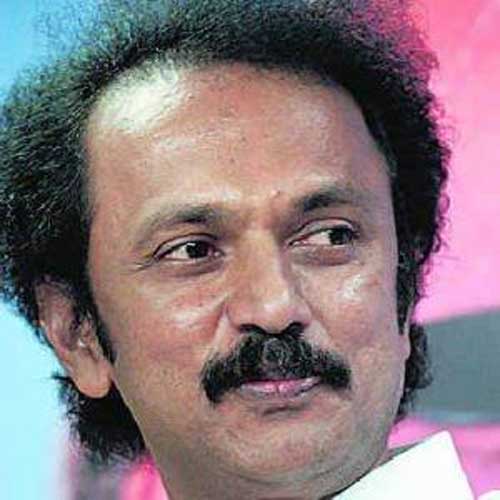 Taking moral responsibility for the party's rout in the Lok Sabha elections, DMK Treasurer and party chief M Karunanidhi's son MK Stalin today offered to quit party posts, but made a U-turn within hours after the party high command advised him against doing so.
However, Stalin's decision to resign drew ridicule from his elder brother, the expelled Madurai-based strongman MK Alagiri, who dubbed it as a "drama".
The two were involved in a power tussle prior to Alagiri's recent expulsion from DMK for alleged indiscipline.
As the events unfolded, Karunanidhi went into a huddle with senior leaders even as many others including party workers started thronging Stalin's residence, pressing him to reconsider his decision.
Senior leader Durai Murugan later told reporters that Stalin, also the party's Youth Wing chief, changed his mind following advise from Karunanidhi against resigning his party posts and assurance from other leaders that they were behind him.
He said Karunanidhi advised Stalin that there was no need for quitting and that the 'young leader' had to steer the party in the future even as the political stalwart told his son that one should not be bogged down by such defeats.
Other leaders urged Stalin not to take such a "tragic decision," Durai Murugan said, adding, they assured their support to him.
"So he accepted our request and leader's (Karunanidhi) advice also and withdrew" the resignation, he said.
He said Karunanidhi had told Stalin the time "was not apt" for taking such decisions and while the party was strong it had many more challenges to face, in an apparent reference to the 2016 Assembly elections.
Following the expulsion of Alagiri, who wields considerable political influence in southern Tamil Nadu, decks were cleared for Stalin to lead DMK in the April 24 Lok Sabha polls.
He had handpicked the candidates for the polls besides leading from the front by way of an exhaustive campaign with a view to enthuse the party supporters, who were on a low following the drubbing in 2011 Assembly polls at the hands of archrival AIADMK which continued its winning streak in all the bypolls since then.
However, DMK drew a blank in all the 35 constituencies it contested in Tamil Nadu and Puducherry even as its allies fared no better.
The events in the DMK camp drew ridicule from Alagiri who not only described it as a drama but asked scribes to wait and see for how long it went on.
"I don't watch or hear unnecessary news. I came to know only from you about his (Stalin's} offer to resign," he told reporters in Madurai when sought for his response on the matter.
"All this is a drama. He will pretend to give resignation letter. Someone will prevent him. Then the DMK president (Karunanidhi) will say he will not accept the resignation. You wait and see how long this drama is enacted," Alagiri, who had reportedly demanded his younger sibling's resignation due to the party's poor show in the hustings, said.
Earlier, Stalin's supporters held protests outside the Chennai residence of Karunanidhi and Stalin against his decision to quit even as many others wrote in social media pages asking their leader to reconsider his decision.