Long Wait for loved ones.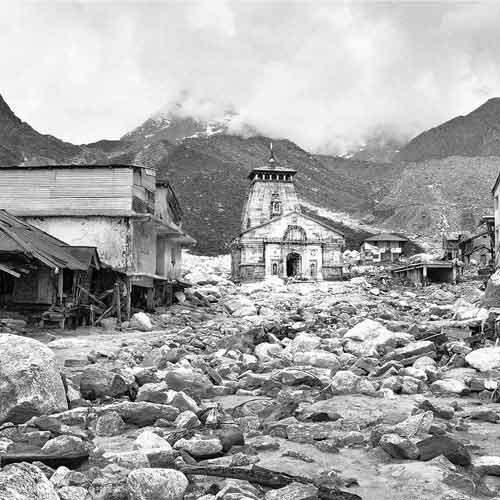 As the rescue operations in the flood-ravaged Uttarakhand entered the fifth day, relatives of several still missing are anxious and worried.
Several people from Pune are waiting to hear from their near and dear ones.
The rescue teams sent by travel companies have not been able to track down the tourists as they are not being allowed to go beyond Hrishikesh and Haridwar.
To add to their miseries, those contacting the rescue teams and administration in Uttarakhand are now being told that if they do not know about their family members by Friday evening, they should not have much hope.
Aurangabad resident Atul Modani's family and friends group of 12 people are stuck at Ramwada, a few kilometres from Kedarnath. "We sent two rescue teams from Pune. One has reached Dehradun while the other is in Haridwar. The rescue teams have been stopped there by the government as the weather is worsening," he said.
"Moreover, the administration and army told me that if we do not get to know the whereabouts of those missing by today evening, then chances of finding them alive are slim," Modani added.
Kaushik Shah's 10 relatives went in Uttarakhand during the flash floods. "They have split into two groups. One group will reach Dehra Dun by evening, but there is no trace of another group," he said.
Advocate Shashikant Potale too is waiting for news of his 22 relatives who were stuck at Gaurikund. "We have not yet traced them. All we got to know from the travel agent is that they are safe," he said.
The anxious relatives blame the Maharashtra government for failing to rescue the people from the state.
Some like Amol Patil, who was stuck at Burkot in the middle of Gangotri and Yamunotri, were lucky to come out unscathed.
He has reached Delhi he wants to continue his trip and visit Mathura, Vrindawan, Agra and Delhi.
"Ours was a group of 37 people and we were saved by god's grace," Patil said.
Patil and his group saw the devastation of the floods. "We had to spent nights without food and camp in the open. We saw local people helping those stranded.
They were distributing food packets and cold drinks for free. There were langars too," he said.
'Locals opened hearts, homes to us'
After being stuck at a remote place near Sonprayag for three days with barely any food, Dattaray Gaikwad, 43, and his family had to trek down slowly and cautiously.
His group would have faced more problems had it not been for the generosity of the locals, who forgetting their own losses helped people cross bridges and doled out water and tea. "When we came down we saw that the few lodges that were intact were operating at four times their capacity. Many offered shelter free of cost. Those people whose phone lines were working let people use them.
They also offered water and dry snacks," he said.
Tour manager Shivraj Choudhary, who is in Haridwar, after a five-day trip of Kedarnath too praised the locals who threw open their doors to visitors. "Food is being served free at many canteens and lodges," he said.
Madhav More from Shirdi was in Kedarnath on June 14 when the district administration announced meteorological department's warning about heavy rains. "Local residents and the Army urged us to move out of the place immediately. We started moving towards Gaurikund."
"As we were moving out, we saw the ashramshala we were camping in collapse," More said. "As we reached Gaurikund, a hotel owner who had lost everything in the floods told us to stay in his house at Rampur and we were safe," he added.
Out of 321 pilgrims, 53 return to Pune
The disaster management cell at the Pune district collector's office has gathered information that there are 321 tourists from Pune stranded in Uttarakhand, out of which, 53 have returned safely.
The officials made it clear that the number would keep changing as it is very difficult to ascertain exact number of tourists from a particular place to various places in Uttarakhand.
According to the disaster management cell there are 54 tourists from Pune whom their relatives nor any of the government has managed to contact. As per available information all tourists from Pune are safe, said resident deputy collector Anil Pawar.
The disaster management cell has noted down details of all the 321 tourists about whom the cell received information either through phone calls or from relatives or friends.
LIFELESS AT LORD'S FEET
The Kedarnath shrine, which was thronging with pilgrims a few days ago, stands buried in debris and boulders — a picture of devastation and destruction. Bodies of pilgrims scattered near the Kedarnath shrine tells the tragic story of the floods which killed hundreds. State agriculture minister Harak Singh Rawat told reporters that his chopper landed at Kedarnath with "great difficulty". "Though the Shivling is intact, there is destruction all around, with bodies scattered all around. It is a very heart-rending situation," he said.

Quick update
Food supply
Delhi chief minister Sheila Dikshit on Friday flagged off trucks loaded with seven tonnes of food articles for flood victims in Uttarakhand. The material contained non-perishable ready-to-eat food articles which have been contributed by Thakurdwara Trust. "We all are saddened by the devastating natural calamity that has struck Uttarakhand. The city government has already announced an amount of Rs 10 crore for the victims of the flood," she said.
Chopper deployment
The defence ministry on Friday stepped up its efforts in the relief and rescue operations in flood-hit Uttarakhand where it deployed over 40 aircraft, including the mighty Mi-26, the world's largest chopper, and C-130J Hercules planes. "The IAF has committed 13 more aircraft to 30 already carrying out the relief and rescue efforts, taking the total number of aircraft to 43, which includes 36 choppers — 23 Mi-17s, 11 ALH Dhruvs, one Cheetah and one Mi 26 — and five fixed wing aircraft, including two C130Js, three AN 32s, one AVRO and one IL76," a Defence Ministry release said.
Miraculous return
An 11-year-old boy, who got separated from his family in flood-hit Uttarakhand, miraculously returned to his Gurgaon home on Friday. Sahil Yadav had lost contact with the other members of his family on June 17. On returning home, the boy told that he did not know how he was rescued.

Railway task force
Indian Railways has set up a task force to monitor the situation in Uttarakhand and ensure smooth evacuation of stranded passengers. The task force will coordinate with the state government and arrange special trains to evacuate stranded passengers. The four-member task force headed by Railway Board chairman Vinay Mittal will also ensure adequate arrangement of catering facilities and drinking water. Special trains have already started from Haridwar to Lucknow, Mumbai and Secunderabad.
REACHING OUT
The army is reaching out to the stranded people by providing food packets and setting up medical camps. It is also ensuring that the vulnerable embankments are strengthened.
The Indian Air Force dropped paratroopers, food and medicines for people trapped in around 100 towns and villages cut off by monsoon rains and landslides since Sunday.
Pawan Hans has deployed three copters. Air India has started operating additional flights from Dehra Dun to bring back those stranded and is offering concessional fares to the affected.
Western Air Command has transported to Dharasu a 25-bed hospital using C-130J aircraft which can treat over 100 people per day and can run without backup for seven days.
Two 30-m-long foot bridges were airlifted to Kedarnath and Joshimath for rescue operation. Army men and ITBP personnel were seen helping people to get across dangerous stretches and difficult terrain.
State Disaster Control Room helpline
022-22027990/ 22816625/ 22854168