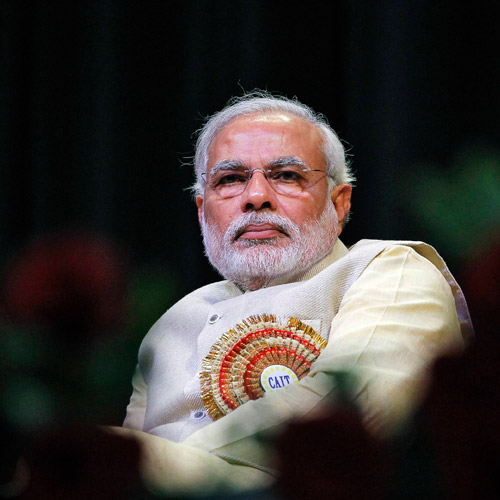 Narendra Modi fought back tears again as he wished Gujarat to "surge ahead" after his departure from the state and sought forgiveness if he had done "anything wrong". Addressing members of Gujarat assembly, he said, "Forgive me if I have done anything wrong. This is my fourth term as chief minister. As I am going now and don't know when I will come back here, I want you to forgive me if you have felt that I was not up to the mark in my work or there was any shortcoming in my conduct."
Anandiben Patel elected leader of Gujarat BJP Legislature Party. Known to be close aide of Modi she is all set to be the new Chief Minister of Gujarat. She would be administered oath of office by the Governor on May 22.
Modi's close confidante Amith Shah along with other party leaders endorse Anandiben for the CM's post.
State Revenue Minister Anandiben's name proposed as next chief minister of Gujarat during the BJP meet.
PM-designate Narendra Modi felicitated by Gujarat BJP leaders. The party leaders along with Modi begin deliberations to elect the next Gujarat CM.
Modi leaves Raj Bhawan and heads towards Town Hall where he is scheduled to chair a meet with Gujarat BJP leaders and elect the next CM of Gujarat. Reports say that Anandiben is the frontrunner for the top post.
Narendra Modi reaches Raj Bhawan to meet Gujarat Governor Kamla Beniwal to tender his resignation as Gujarat Chief Minister.
JD(U) leader KC Tyagi hit back at Modi for inviting Pakistan PM Nawaz Sharif for the swearing-in ceremony scheduled for May 26. Tyagi said during poll campaign Modi said India won't engage in a dialogue with Pakistan until Islamabad acts against terror groups emanating from its soil, then why he is inviting Sharif for the ceremony.
Sharif has been invited to attend Narendra Modi's swearing-in ceremony at the Rashtrapati Bhavan on May 26.
According to reports, the pakistan Prime Minister will be among 3,000 dignitaries who have ben invited to attend the function. Besides Pakistan Prime Minister, the heads of governments of the SAARC members countries have also been invited to attend the function.
Narendra Modi hugs Congress leader Shankersinh Vaghela
Gujarat MLAs greet Narendra Modi after the special Assembly session ends. "Both Narendra Bhai and Shankersinh Bhai are Swayamsevaks of the Sangh. Their roots are the same," says Vala Speaker Vajubhai Vala praises Modi for the development work done in Gujarat
Comptroller and Auditor General should not be used as a political weapon to target opponents, says Modi
"I may not have spoken much in the House but I made it a point to hear each and every member also on the opposition," says Modi
On a lighter note Modi says, "In PMO Gujarati will be spoken, Khaman Dhokla will be eaten, Khakhras will be eaten". "Modi's success does not lie in development today but that the development journey will continue after today," says outgoing Gujarat CM
Expresing his gratitude towards the Leader of Opposition and Congress leader Shankersinh Bhai, Modi says, "you can proudly say PM used to ride on his bike.We traveled to every district on his motorcycle"
"I have never said what has happened in Gujarat in the last 12-13 years. Each and everyone has contributed, says Modi, adding "I trust the people of Gujarat to take the state forward."
When I was made the CM Gujarat was rocked by earthquake and devastated by financial scams. 2002 was a big challenge, says Modi
Praising the Gujarat model, Modi says all leaders of both ruling and opposition parties are sitting together and discussing issues.
Modi says he learnt a lot in the Gujarat Assembly. "I got the honour of becoming the chief minister four times," says Modi
Modi begins farewell speech . "I hope within the framework of constitution there is a Ram Mandir in Ayodhya, says Vaghela
Praising PM-designate Modi, Congress leader Vaghela says people people have voted for you with immense expectations, you will not be the PM of BJP, but the PM of entire India. Vaghela credits Modi for BJP's emhatic win in the Lok Sabha polls. "In 1984 it was 2 now it is 282 and the credit goes to Narendra Bhai, says Vaghela.
Leader of Opposition Shankersinh Vaghela says everyone is happy as Gujarat CM is set to become PM. Speaking on the floor of the House, Gujarat Law Minister Bhupendrasinh Chudasama says Modi's simplicity is inspiring.
Anandiben Patel, who is expected to become the next Gujatrat CM praises Modi's model of development. "It is a day of pride for Gujarat that a son of Gujarat will be the PM of India," says Patel. Gujarat Finance Minister Nitin Patel terms Modi as 'son of Gujarat'. We used to call this son of Gujarat a future PM before elections, now we call him the PM, Patel says.
NCO leader congartulates PM-elect Modi in Gujarat Assembly, says we are with with you in development path The man sitting on the top seat in this Assembly will become the PM of India at 6 PM on the 26 th May, says Shah
The people of this country voted in in support of the development happened in Gujarat, says Shah. Heaping praise on Modi, the entire nation supported this son of Gujarat, says Shah.