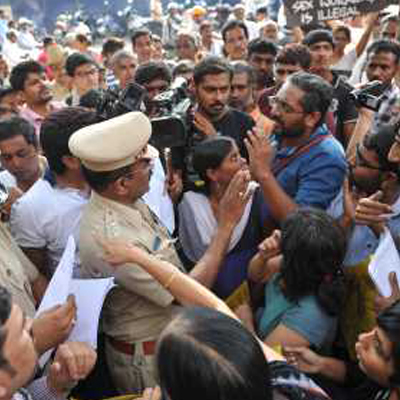 Women activists of the Congress Party on Thursday staged a protest outside the Uttar Pradesh Bhavan, following reports of two fresh cases of rape in Hamirpur and Moradabad Districts of Uttar Pradesh.
Congress leader Shobha Oza said, "The UP Government has become a silent spectator even as crimes against women have increased two fold. It is not able to tackle the law and order situation in the state. It is their duty to put a stop to crimes against women."
She also said that 'jungle raaj' in the state should end, and demanded strict action against those accused in all rape cases.
"Akhilesh Yadav is in Delhi today, and we want him to come here and listen to our grievances. We want to tell him that either you fix the law and order situation in UP, or, the women will march through the streets of UP, and then protest," said Oza.
The protestors staged a sit-in outside the UP Bhavan and also raised slogans against Akhilesh Yadav.
Earlier today, a 16-year-old girl was found hanging from a tree in Rajupur Milak village in Moradabad District this morning. This is the third such incident after the Badaun rape case, where two teenage Dalit girls were found hanging from a tree.
The girl's family has alleged that she was raped and murdered after being reported missing the previous evening.
Prior to that, a woman was reportedly gangraped in Uttar Pradesh's Hamirpur by the Sub-inspector inside the police station.
The victim said that she was threatened that a false case would be lodged against her when she didn't pay a bribe and was later raped by Sub-inspector Rahul Pandey, who has been arrested.