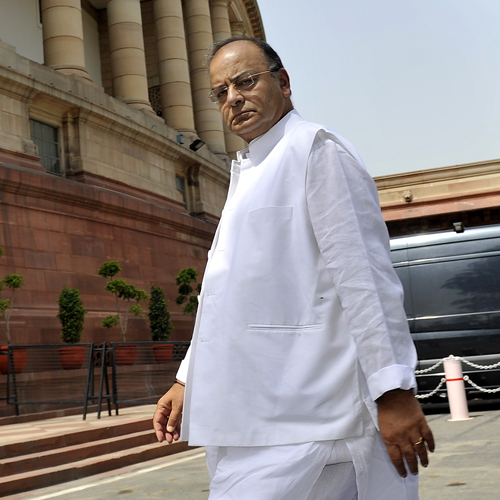 Responding to Congress Vice President Rahul Gandhi's criticism of the freedom of speech in the Parliament, Finance Minister Arun Jaitely, stated, "Congress has alleged that it was not allowed to speak in the House, but there hasn't been any instance where they were not allowed to raise issues."
Further rejecting Gandhi's charge that only ''one man's voice counts", Jaitley added, "Those who don't speak in the House accuse us of not allowing them to speak."
Raising strong objections to Speaker Sumitra Mahajan's refusal to allow any discussion on communal violence in the Parliament, Rahul Gandhi, on Monday, stated that there is no spirit of discussion in Lok Sabha. "Only one man's voice was being heard in the country," he told the reporters.
The parliament was witness to a ruckus over lack of debate on incidents of communal riots in parts of Uttar Pradesh. Congress MPs, led by Gandhi and supported by other Opposition parties, raised slogans and demanded the introduction of the bill against communal violence. "We are not being allowed to speak in the Parliament, we wanted a discussion," Rahul Gandhi said while attacking the BJP government.
However, criticising Gandhi's comments, Jaitley stated, "The question is why has the Congress party made an issue out of a non-issue? The reason is very clear to me. A section of the leadership of the Congress party, because of its inability to lead, has been under pressure and is
facing a palace coup
."
Jaitley added, "They have been facing a palace coup. It's a coup within their own party. Day after day, established leaders of the party are speaking out. It's an internal compulsion within the party. For that, you need not drag the House or the presiding officer into the debate. If you want to show yourself as doing something, it will be better if you lead your own party rather than develop a contrived aggression against the functioning of the House itself, which otherwise has been functioning well," he said.
Rahul Gandhi also met BJP patriarch LK Advani and both shared concerns over the house proceedings. Gandhi urged NDA floor managers to resolve issue.
Reacting to Rahul Gandhi's claim, Parliamentary Affairs Minister Venkaiah Naidu said, "We had agreed to discuss all issues. I won't take anyone's name, but I am sad at the way Congress is behaving. People of the country have given us majority and the Congress should accept the verdict.Good days have come for the country and people are happy, but it could be bad days for Congress.