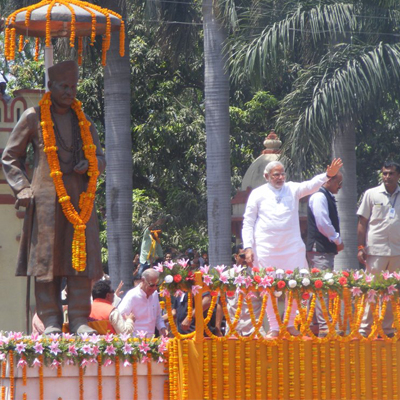 It had been projected that the BJP will gain huge ground in Uttar Pradesh, but nobody would have ever imagined such a disappointing performance for the Samajwadi Party (SP), the Congress and especially the BSP. For the Congress, its anti-incumbency factor, for the SP their failure to perform well and quite probably the Muzaffarnagar riots may have affected them a lot, but for the BSP , which had been working silently for a good time to strengthen their network, it's a huge loss.
The latest trends are showing the BJP leading on more than 65 seats, the SP on 10, the Congress three and the BSP on 'none'.
It is very surprising that Mayawati, who had so far kept her cards close, will have nothing in her hand to flaunt in Uttar Pradesh, which has been considered the most decisive state to form a government.
Clearly, it should not be seen as a bad or the worst performance by other parties in UP, one should rather see it as a one-man show by Modi and Co, who led the campaign from beginning to end.
One more important thing which has been proved here is that it's not necessary that huge crowd in rallies get converted into votes also. The only man who has managed to translate crowds into votes is Modi, which is proven now.
The BJP is heading towards a landslide victory in Uttar Pradesh and many prominent leaders have either lost their seats or are all set to lose. Union aviation minister Ajit Singh, who was considered unbeatable, has already lost to first timer Satpal Singh of the BJP. Union minister and young Congress leader Jatin Prasada is trailing and his position so far is third.
All these trends and results show that there was a Modi wave which did turn into a 'tsunami' for his counterparts. And nobody can ignore Amit Shah, who led the Uttar Pradesh campaign from the front for the BJP.
Meanwhile it's Modi all around in Uttar Pradesh, the fact undeniable, and for his opponents, the pain unbearable.