The cop was dining at Thane restaurant with family when he took drastic step; work stress, domestic quarrel blamed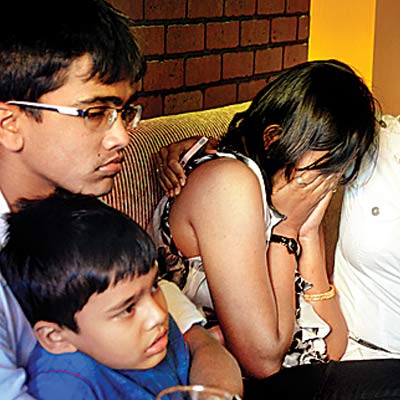 Also read: Who will look out for the Mumbai Police?
A deputy commissioner of police attached to the state's Anti-Terrorism Squad shot himself fatally in a restaurant in Thane on Saturday afternoon while he was seated around a table with his wife and two young sons, aged 14 and 7. There were reportedly no other diners in the restaurant at the time.
DCP Sanjay Banerjee, a resident of Gajanand Park complex in Hiranandani Estate, Ghodbhunder Road, Thane West, reportedly had an argument with his wife earlier in the day, though investigators said his reason were still unclear. Banerjee reportedly used his personal licensed 9mm pistol to shoot himself in the right temple at 4.10pm.
A cleaner employed at the restaurant, Goa Portuguesa near R Mall on Ghodbunder Road, who rushed out from the kitchen on hearing the firearm go off, was questioned by the police. The Banerjees were the last family eating lunch at the restaurant, said the eatery's representatives.
Policemen at the Kapurbawdi police station said the 40-year-old DCP's elder son told them the family had planned to eat out since his father was home. "His wife Aishwarya said he was under some work stress. We also came to know that the couple had an argument with each other earlier, but are still investigating."
ATS sources said Banerjee was one of at least two DCPs who had not received their salary for the past several months as the Home Department is yet to sanction their posts in the ATS.
Sources said the DCP was also under stress over a Thane builder allegedly trying to implicate him in a crime.
The family's uncleared plates and the remnants of their meal remained on the table until police investigations ended. Apart from a large pool of blood and a blood-splattered wall behind the dead DCP's chair, there was a blood-soaked paper napkin on the floor, a blood-splattered spoon on the table and grains of rice on the floor.
Balasaheb Patil, DCP- ZONE V, said, "We have taken the statement of family members but we are trying to find out the real reason for the suicide. Hopefully we will find out the reason by tomorrow."
Banerjee's body was first taken to Thane Civil Hospital, and later to JJ Hospital in Mumbai for a bullet injury post mortem.
@faisaltandel