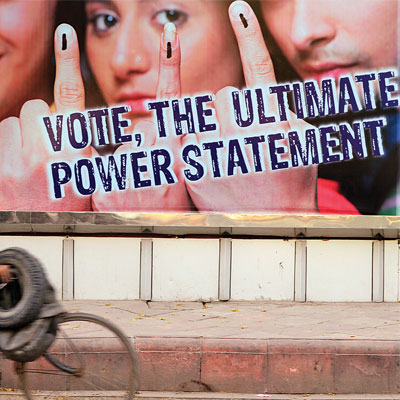 Nearly 11 crore voters in 92 seats spread across 11 states and three Union Territories will go to polls today in the third phase of the 2014 general elections.
Among the crucial states going to the polls are Uttar Pradesh (10), Maharashtra (10), Haryana (10), Odisha (10), Madhya Pradesh (9), Delhi (7), Bihar (6), Jharkhand (5) and Kerala (20).
The phase is of very critical value for the BJP as it would give the first glimpse of the Modi wave – whether it is there for real or it is just a mirage like India Shining of 1999.
After the Muzaffarnagar riots, the balance of power seems to be tilted in favour of the BJP in western UP where 10 seats are in contest on April 10.
Mayawati-led Bahujan Samaj Party had won the maximum (5 seats) in these constituencies during 2009, followed by BJP (2), Rashtriya Lok Dal (RLD) (2) and Samajwadi Party (1) while Congress had drawn a nil.
It is also a test case for the Aam Aadmi Party that hopes to cash in on the surge against the Congress' misrule mired with inflation and scams.
For a beleaguered Congress, the hope clings on triangular fights on several seats in UP, Haryana, Maharashtra, Delhi and Bihar. It is hoping to do well in Kerala.
The contest is significant for major regional players like SP, BSP, RJD, JD (U) and NCP, who would be reworking their arithmetic after gauging the political barometer in this phase.