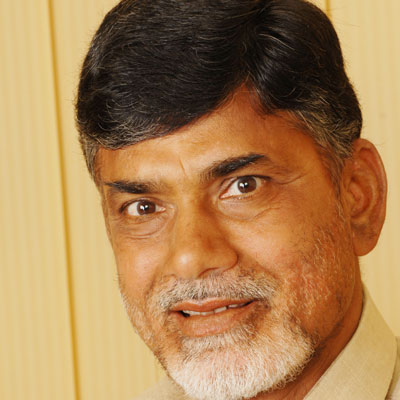 Telugu Desam Party (TDP) president N Chandrababu Naidu was sworn in as the first chief minister of new Andhra Pradesh at a function at Nagarjuna Nagar, 18km from here on Sunday. In all, 19 ministers, including two ministers from Telugu Desam Party's (TDP) ally Bharatiya Janata Patry (BJP), were sworn in along with the CM.
Governor E S L Narasimhan administered the oath of office and secrecy to Chandrababu at 7:27 PM, the auspicious "muhurtam" set for the occasion.
Senior legislators K E Krishna Murthy, Yanamala Ramakrishunudu, Ayyannapatrudu, Devineni Umamaheswara Rao, N China Rajappa, Palle Raghunath Reddy, Pattipati Pulla Rao, and Bojjala Gopalakrishna Reddy, who remained loyal to the TDP through thick and thin, were inducted into the new state's first cabinet.
Ganta Srinivasa Rao, who served as a minister in the erstwhile cabinet of Kiran Kumar Reddy and returned to the TDP on the eve of the recent elections, has also been made a minister.
Women legislators Paritala Sunita, Kimidi Mrunalini and Peethala Sujatha found place in the council of ministers.
Educationist P Narayana, who is not a legislator yet, has also been sworn in as minister. He is expected to be nominated to the AP Legislative Council soon.
BJP MLAs Kamineni Srinivas and P Manikyala Rao were also given cabinet berths, making the TDP ally, a partner in the state government.
Late Union minister K Yerran Naidu's younger brother and three-time MLA Atchannaidu has been made a minister for the first time.
Naidu takes over as the chief minister after 10 years as opposition leader. The 64-year-old Naidu has promised to revive and reshape the fractured and bifurcated state.
A host of dignitaries, including 15 union ministers, film stars and veteran BJP leaders such as LK Advani and Murli Manohar Joshi, besides chief ministers of Gujarat, Chhattisgarh, Rajasthan, Odisha, Punjab and Goa attended the mega event. Shiv Sena chief Uddhav Thakre and five times Punjab CM Prakash Singh Badal also attended.
Telangana chief minister K Chandrasekhar Rao and YSR Congress president YS Jaganmohan Reddy did not attend the event though Naidu personally invited them.
Prime minister Narendra Modi promised all possible central help amid his confidence that the administrative experience and commitment of the chief minister will help take the state to newer heights.
"We will have our capital on the Vijayawada-Guntur stretch that will be the world's best planned city, fully loaded with ultra modern facilities. I have even plans for introducing a bullet train to Chennai and Hyderabad," Chandrababu Naidu, chief minister Andhra Pradesh.