The Bolly star admits he is excited about doing his first Hindi remake of a South film, as well as sharing screen with onscreen baddie Prakash Raaj.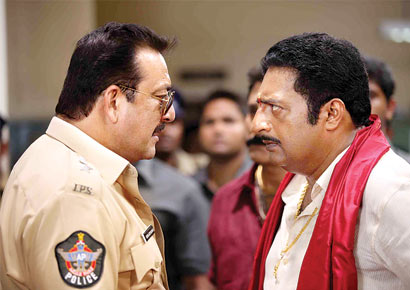 Sanjay Dutt hit home with his baddie act in the 2011 Rs 100-crore hits, Agneepath and Son of Sardar. And this year seems to be just as promising for the Bolly star. Interestingly, two of the films that he is doing this year are remakes. While one is the remake of the hit Amitabh Bachchan starrer Zanjeer being directed by Apoorva Lakhia, the other is the remake of South hit Saamy.
Titled Policegiri the Hindi remake — directed by South director KS Ravikumar — happens to be Dutt's first Hindi remake of a South film. And giving competition to Dutt's good cop act in this one will be the hit onscreen baddie Prakash Raaj, who is excited about giving an onscreen takkar to Agneepath's 'Kaancha Cheena'.
Dutt on the other hand is said to be equally excited about this film. Though he has played a cop in several successful films in the past, what has him thrilled is doing his first South remake as well as working with one of the most respected South directors. "The film is the remake of the superhit Tamil flick Saamy. It is my first film with a South film director and also my first South remake in Hindi. I was also looking forward to working with Prakash Raaj and it's a great experience to be working with TP Aggarwal (producer), Ravikumar and Raaj," says Dutt.
Prakash too is equally thrilled to be sharing screen space with Dutt. "Sharing screen space with Sanju is a great pleasure. We have completed two schedules of the film in Hyderabad and it was fun working with Sanju," he shares.
Talking about the cop film, Aggarwal adds, "Sanjay will be playing a good cop-bad cop who gets himself into the corrupt circle and changes the whole system. We wanted to an action packed movie, but at the same time wanted to show the policewala as a good human and a protector who understands the common man's issues. We strongly feel that Sanjay is the perfect actor to portray this role, as he looks strong, but his eyes look subtle and speak volumes."