The author/journalist isn't letting plain dames unsettle her from a roost well earned. Says she has a skin like a rhino.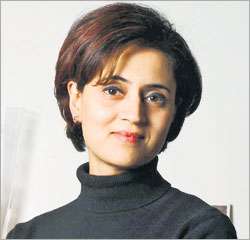 Author/journalist Sagarika Ghose isn't letting plain dames unsettle her from a roost well earned
If only life were as simple as lineages spelling out our life in detail. A look at Sagarika Ghose's life would belie you into thinking so. Her boasts — daughter of erstwhile director of Doordarshan Bhasker Ghose and wife of one of India's leading television journalists Rajdeep Sardesai. Thankfully life isn't simple.
The Rhodes scholar became the first woman to anchor BBC's 'Question Time India' in 2004. Not to overlook her journalistic oeuvre that's now placed her as senior editor and prime time anchor on CNN-IBN. And her calling as an author — 'Gin Drinkers' out in 1998 and now 'Blind Faith'.
As for the 'behind every successful man blah blah', she's certainly thrown that into the litter bin. "Rajdeep and I were classmates at Oxford and he always copied my notes. It was tough being known as 'Rajdeep's wife'. But he's such a big sweetie that I don't mind a bit!"
Her day starts at 6.54 am when she takes her kids, Ishan, 12 and Tarini, 10 to the bus stop, ends at 11.30 pm and we're quite used to seeing her on the telly in between every day.
'Blind faith' is about four characters on a pilgrimage. She's sketched out an India using her dichotomy of Western and Indian values magnanimously to further a powerful story.
"I write novels because I have so much more left to say after I've reported a story or covered an assignment. I wrote 'Gin Drinkers' after a story on Dalit intellectuals, 'Blind Faith' after I went to cover the Mahakumbh mela in 2001 and after 9/11."
As for detractors, there's more than just a quip and an exhaustive line of achievements to shut them up. "I have a skin like a rhino! Most of my critics, I have to say, are talentless elderly ladies who are probably furious that a woman who is attractive is also intelligent and also has a husband and two kids. Bit too much for them to handle, I guess."