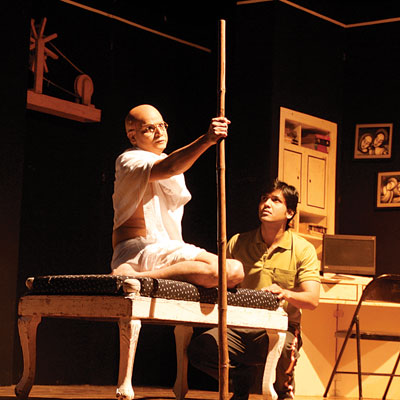 A Marathi theatre group has created a new record with 12 back-to-back performances of a play in Thane last weekend.
The occasion was the birth centenary year of Baba Amte, the social worker and philosopher renowned for his work particularly among people afflicted by leprosy.
The purpose was to raise funds for a hospital in Hemalkasa, managed by Prakash Amte, son of Baba Amte, and his wife Dr Mandakini.
So, Pradeep Dhaval persuaded his members to stage their social play 'Dvandva' at the Kashinath Ghanekar Natyagruha.
The three-hour long performance is the story of a child who undertakes to learn about the life of Mahatma Gandhi as part of his school project. Interestingly, the child's father, an admirer of Gandhi and his principles, struggles to answer many of the little one's questions. So, the title 'Dvandva', which is perhaps best translated as 'confusion'.
But the six-member cast staged 12 shows in a row, with only a short break for the audience to exit and a new lot to take their seats, in exactly 38 hours and 40 minutes. The first show began at 9.30 on the morning of February 15 and the last concluded at 3.30pm the next day.
"We heard that Baba Amte's Anandwan wanted to raise funds for the hospital, so we thought out this idea. I had done a similar serial act with 11 shows in 2009 and when I suggested that we could try to break that record they were excited about it," said Dhaval.
Dhaval was helped by the Konkan Kala Academy, the Sharda Education Society and Anand Vishwa Gurukul to organise the event.
Rajan Bane, who is director of 'Dvandva' said, "The actors performed without any rest, wearing their make-up continuously and only managing to snack a little in between to sustain the energy.
The programme collected a fabulous sum of Rs15,55,555 that was handed over to the Amtes. The event will in all likelihood enter the Limca Book of Records.
Smita Thomas, a member of the Limca Book of Records team, said they had accepted the entry. "We are in the final stage of the paper work and will issue the certificate shortly," she said.