Farhan Akhtar wants to take a break from making and answering questions on sequels to his films.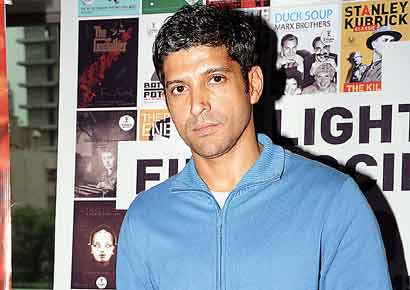 Farhan Akhtar, who is all set to perform live this weekend in Goa for an annual college fest, can't wait to get on the stage. When we caught up with him, he was rearing to go. "Bring it on, why so far," mused Farhan who loves interacting with the audience.
"You get an immediate sense of what they are feeling, and that is addictive," smiles the director-actor-singer who has been preparing for the concert for a while now. He is especially excited about performing in front of GenNext. "I am proud of the emerging generation. Today's youth is knowledgable and exceedingly aware of their responsibilities," says Farhan who plans to sing songs from his Rock On!!, Zindagi Na Milegi Dobara and a couple of others that he is working on. He will be performing at Channel V's Nokia Indiafest.
Considering his love for music, ask him if the sequel to Rock On!! is happening and he quips, "Everyone is curious to know about the sequels to Rock On!!, Zindagi Na Milegi Dobara and the possibility of Don 3. But let me focus on something orginal, thanks!" He, however, admits that people are working on the scripts. Currently, Farhan is focusing on his upcoming comedy Shaadi Ke Side Effects. "It's a romantic comedy and I will be attempting this genre for the first time. Also, I am a big admirer of Vidya Balan and am looking forward to working with her," says Farhan who will start shooting for the film from mid-February.
As for playing the Flying Sikh Milkha Singh in the biopic Bhaag Milkha Bhaag, Farhan says that shooting for it was "a very different experience." "Every role calls for a certain preparation but this particular one was based on an athlete so there was a certain physicality to be achieved. Also, I was fortunate to meet and speak to Milkha Singh about his experiences, especially those on which the film focuses," says Farhan who earlier had to work on his character in Karthik Calling Karthik too. "Both Rock On!! and Zindagi Na Milegi Dobara had me in roles that are closer to me," he smiles.