Indian electronica project Dualist Inquiry's Sahej Bakshi speaks about winning two awards for Best Live Act and Artist of The Year at a music festival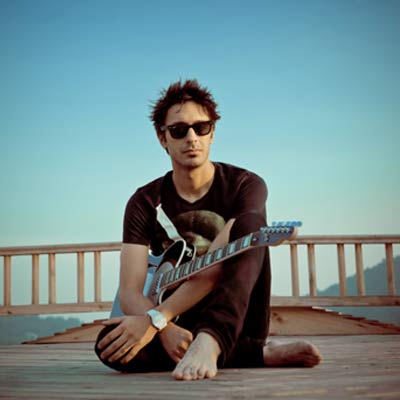 He's one of the most prominent names on the Indian electronica music scene and has played at numerous venues in the country and abroad. He has opened for international artistes like Basement Jaxx, Fatboy Slim and Deadmau5 in India. Dualist Inquiry recently earned two feathers in his cap, winning awards for the Best Live Act and Artist of the Year at the 100 Pipers Vh1Sound Nation music festival. We caught up with Sahej Bakshi, the man behind Dualist Inquiry.
The big win
The 10-day music festival took place across six cities, with 23 gigs featuring 28 artistes, starting from May 2. Sahej spun his original music with his most popular numbers 'Gravitat', 'Qualia', 'Specter' and some new untitled songs, giving his personal best like he always does not knowing there would be awards handed out at the end of the festival, and even winning for that matter.
So how does it feel to win in not just one but two categories? "It's really nice. It feels great. My manager and I didn't even know that there was going to be some kind of awards here. I had a good year doing loads of shows and gigs too. So, yeah, I count my blessings," says he.
Beginings
The Delhi-based artist got introduced to and quickly developed an affinity for electronic music at the age of 19, when he was studying at the Thornton Music
School in Los Angeles. "Earlier I was only mostly familiar with rock but when I would accompany my friends who would attend shows and gigs playing electronica, it blew my mind. I wanted to make that very music. That's what I do now, I love it, it's my dream job," he recollects.
Sound of music
The 27-year-old artiste also plays the guitar and so his music is labelled as electro-rock. However, he doesn't see it that way because within the genre of rock, there are many sub-genres. He prefers calling it electronica with influences of the guitar. Sahej has released one album and two EPs so far. In March 2013, his debut album 'Doppleganger' saw a release. "This was quite different from my previous work. It's hard to describe in words how different it is. I can say it's different on a subconscious level, it's more like the real value of my experience," he says.
Upcoming EP
The 27-year-old artist has already begun working on his third EP, which will get released in a few months time. It's a four-track untitled EP. He hasn't decided on any theme for it as yet. Once he is done with making the music, he then listens to it from the perspective of a listener. After doing so, he then thinks of the themes. This EP, Sahej says will be different from 'Doppleganger' and from his previous work and hopes to release it by August.
Future plans
Sahej has played at gigs in the country as well as abroad and wants to keeping doing so. However, his emphasis lies on quality rather than quantity saying, "I would rather play a really good show in Delhi than play at a small club in Hong Kong."
As for collaborations, he says, "The world of collaborations is huge. Even opening for international artistes is cool. In March, I had opened for Deadmau5 when he came to India, it was a dream come true for me."