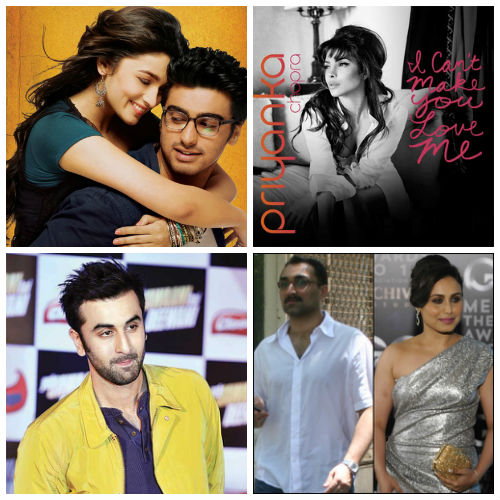 #1 2 States makes amazing collection at Indian Box Office in the first week
The Arjun Kapoor- Alia Bhatt starrer 2 States crossed 60 crore mark within 7 days of its release. Having made an amazing collection at the Box Office in the first week, Abhishek Varman's debut directorial has managed to grab the fourth place in the list of highest grosser movies of 2014.
The film collected Rs 12.42 crore on its releasing day April 18. However, the opening weekend saw a collection of Rs. 38.06 crore. The movie has collected Rs 60.77 crores net at the Indian Box Office in the first week. Based on Chetan Bhagat's novel "2 States: The story of my marriage", the film received a positive word-of-mouth publicity apart from its marketing stunts.
#2 Kangana Ranaut to get to writing and direction after acting
With the freshly released "Revolver Rani" in her pocket, Kangana Ranaut says she doesnt care about being number one all the time. I want to do what makes me feel good and keeps me happy and peaceful," she remarked.
"I want to work with actors like Aamir Khan and Irrfan Khan. I feel that I should collaborate with talented people and make the most of my limited time as an actor. I know for a fact that I'm not going to be acting all my life, I will eventually want to get to writing and directing" said Kangana to a news daily, who recently took a screenplay writing course in New York, US.
Also read: I am proud of what I have done: Kangana Ranaut
#3 'I Can't Make You Love Me' makes fans fall in love with Priyanka Chopra
Priyanka Chopra's third and the latest solo I Can't Make You Love Me, that released on April 22, has made the music lovers and PC fans go crazy. It has also managed to bag the number three spot on iTunes.
Her new single, I Can't Make You Love Me, is the cover of the 1991 Bonnie Ratt song by the same name. After the release, Priyanka Chopra tweeted asking for reviews for the latest single.
*deep breath* here it is.... 'I Can't Make You Love Me'... https://t.co/hWMxMV0em3 - it's now yours.... Tell me what you think!

— PRIYANKA (@priyankachopra) April 22, 2014
Loved @priyankachopra's new single #ICantMakeYouLoveMe n how she's turned a classic ballad into am uptempo club anthem. #Smashhit

— Tushar Joshi (@TusharrJoshi) April 22, 2014
And @priyankachopra has done it again with "I can't make you love me" on the contrary my dear, I think you can :) http://t.co/a6KuykK9fZ

— MissMalini (@MissMalini) April 23, 2014
#4 Ranbir Kapoor set to shift to his new apartment
The charming Ranbir Kapoor is all set to shift his base to a brand new plush apartment on Hill Road. The Bollywood superstar recently invested in some property for himself. Buzz is that the Kapoor junior owns three separate floors in the 10-storey apartment. His new house is currently under renovation and will be ready by this weekend.
#4 Twitter jokes about Rani Mukherjee-Aditya Chopra marriage
Rani Mukherjee and Aditya Chopra tied the knot on April 21 in Italy. Soon after their wedding news broke on the social media, people flooded Twitter with best wishes for the newly wed couple as well as jokes about their marriage. Here's a look at some of the tweets.
from FB: "If Saif & Kareena are called Saifeena, will Aditya Chopra & Rani Mukherjee be called Adani?"

— Alka Dwivedi (@alka_d) April 25, 2014
Rani Mukerji and Aditya Chopra got married in Italy last night. Ideally this should have been their 10th anniversary *tweets like their mom*

— Ruchira Singh (@RuchiraSingh) April 22, 2014
Aditya chopra gt married to rani mukherjee last night. This proves the proverb today LANGOOR KE HAATH MEIN ANGOOR

— iKaamchor (@iamkaamchor) April 22, 2014
Also read: Fans take to Twitter and congratulate Rani Mukherjee on wedding with Aditya Chopra
#5 Inder Kumar arrested on charges of rape
Bollywood actor Inder Kumar was arreted by the Versova policeon Friday on charges of raping and physically assaulting a 23-year-old woman. The woman said she was introduced to Kumar about three months ago and they became friends. The model, in her statement to the police, said that the same evening Kumar called her to his residence and allegedly assaulted her with a broken beer bottle.
#6 Sanjay Dutt's son to make his debut in father's home production
Sanjay Dutt's three-year old son Shahraan is all set to make his film debut in his father's home production 'Hasmukh Pighal Gaya'. The Dutt junior will be part of the song, 'Kisi Ki Muskuraton Par Ho Nisar' in the film. The song, originally from Raj Kapoor's film 'Anari', will be played twice in 'Hasmukh Pighal Gaya'. 'Hasmukh Pighal Gaya' is a black comedy satire that looks at the hottest day in Mumbai.
Sejal Shah's directorial debut stars Amitabh Bachchan, Jackie Shroff, Sanjay Dutt and Priyanka Bose. It is scheduled to release in September.
#7 Ranveer Singh endorses safe sex in a Durex advertisement
Ranveer Singh, the quintessential Bollywood heartthrob seems to be getting closer and crazier with his female fans. His most recent venture is nothing but a quirky advertisement for the country's leading condom brand- Durex.
A pleasurable getaway from the raunchy, regular condom ads, Ranveer Singh's commercial is a funny take on protection. He endorses safe and pleasurable sex through the promotional video. The actor is seen portraying himself. The interesting music along with a rap on the desires of a man, is what rakes up the excitement.
He aims to create awareness about sexual wellbeing and serious sexually transmitted diseases. Proud of his work, Ranveer says " With the kind of problems we face in our country - HIV and STDs and unwanted pregnancies, I strongly feel that if there is one product that needs to be endorsed, it is condoms."