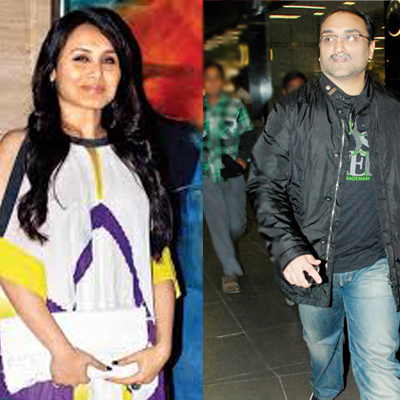 Bollywood actress Rani Mukherjee got hitched to her alleged beau and three time national award-winning director Aditya Chopra in Italy this Monday. Their relationship which was being speculated in the media for a long time finally culminated into a secret wedding ceremony.
They had been denying their 'relationship status' till date and the secret wedding ceremony took place with close family and friends. The news was broken via tweets by Bollywood critic Taran Adarsh.
To confirm the news about Rani and Aditya Chopra's marriage, film critic Taran Adarsh took to his twitter account and tweeted the news
Aditya Chopra and Rani Mukerji got married last night on 21st April in Italy. The wedding was a very small intimate affair.

— taran adarsh (@taran_adarsh) April 22, 2014
He later tweeted Rani's statement to her fans. Rani conveyed via Taran, "I would like to share the happiest day of my life with all my fans all over the world whose love and blessings have been part of my journey all these years. I know that all my well-wishers who have waited for this day will be really happy for me. It was a beautiful wedding in the Italian countryside with just a few of our close family and friends with us. The one person I missed terribly was Yash Uncle, but I know he was there with us in spirit and his love and blessings will always be with Adi and me. I have always believed in fairy-tales and with God's grace my life has been exactly like one, and now as I enter the most important chapter of my life - the fairy-tale continues."
RANI MUKERJI'S STATEMENT: "I would like to share the happiest day of my life with all my fans all over the (cont) http://t.co/cywIRe110W

— taran adarsh (@taran_adarsh) April 22, 2014
Twitter was abuzz with fans from all places tweeting about one of the most awaited weddings in Bollywood.
So Rani Mukherjee is officially Mrs. Aditya Chopra now. For sure we'll see her acting career reaching highs again. YRF zindabaad!! :D

— Vinit Parmar (@vinitparmar) April 22, 2014
What! Finally! Aditya Chopra and Rani Mukherjee got married in Italy on 21st April. Well, wish them all the luck and a happy wedded life.

— FB Wale Dude Baba (@FBwaleDB) April 22, 2014
Rani Mukerji and Aditya Chopra got married in Italy last night. Ideally this should have been their 10th anniversary *tweets like their mom*

— Ruchira Singh (@RuchiraSingh) April 22, 2014
Aditya Chopra was earlier married to interior designer Payal Khanna. She was his high school sweet-heart and later they married to eventually divorce in 2009.
Watch the video below