The 8-year-old who is a big Salman Khan fan had the famed host in splits as the audience cheered him while he mimicked the Bollywood star.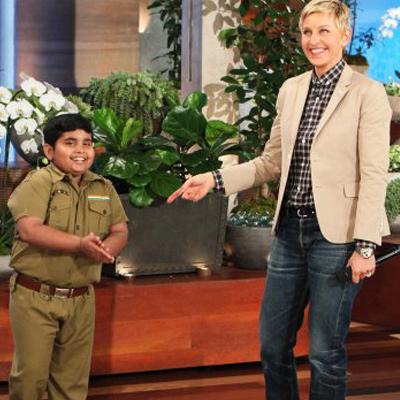 Fans in India have seen Akshat Singh, 8 dance and do unbelievable things like headstands, cartwheels and awesome dance moves that many fit people can't do.
The boy from Kolkata was specially invited on the show by host Ellen DeGeneres and chatted with her after his Salman Khan-styled performance.
Riding a small bike and dressed in a policeman's uniform the 8-year-old did his famed moves but was unable to groove to the Bollywood actor's songs as he was unable to get permission to use it on the international show.
An interpreter was called, but Akshat did a swell job of talking to Ellen on his own with minimal help. He was given a new bike with the US flag and his name on it by Ellen who also spoke in Hindi to the lad.
See Akshat on the show: