Whether you want the finest in hotel living, spa treatments or cuisine, this city state has it all.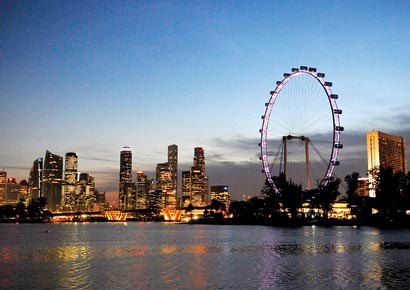 Discover each other as you take the plunge into the adventurous realm of Resorts World Sentosa, Asia's top-of-mind, fun and exciting destination, offering memorable experiences in a world-class tropical resort setting.
Make your way to the Universal Studios Singapore for a day of thrilling rollercoaster rides and movie-themed attractions. For a trip back in time for two, immerse yourself in the Maritime Experiential Museum & Aquarium with more than 400 objects from ancient maritime trade on show.
Later in the evening, watch the Crane Dance - a love story with a difference; then enjoy a romantic dinner at Palio for some Italian, Fiesta for Latin American cuisine or Osla, winner of the Best Dining Experience award. With so much more in store, your adventure at Resorts World Sentosa is only limited by your imagination.
Indulge in an exclusive 4-course fine dining menu, personalized butler service, and magnificent skyline views – all in the comfort of a spacious capsule, atop Singapore Flyer, the world's largest Giant Observation Wheel. A visit to the entertainment haven that is the Marina Bay Sands is incomplete without a performance at the Grand Theater where famous acts such the Jersey Boys have been showcased.
Together discover the thrill of being in control of a commercial jet airliner to in the Flight Simulator, another must do is the G-MAX Reverse Bungy, a Bungee jump in the reverse direction and you soar into the city's skyline with a thrilling surge of pure adrenaline. Walk together through Gardens by the Bay, a spectacular ode to the city in a garden.
Take a stroll along the OCBC Skyway, a 128-metre long walkway to view different vistas of the gardens. Enjoy an intimate meal for two at Pollen, helmed by renowned Chef Jason Atherton and set within a lush Mediterranean garden in the Flower Dome.
Good food in a romantic setting will always bring a couple closer together. Experience luxury together with a trip to One Rochester — a plush retreat with The Playroom for an intimate dining session or The Bar, where there are more than 260 types of wine and 30 kinds of beer and sake to choose from. You could also opt to enjoy each other's company amidst the gothic charm of CHIJMES or the trendy White Rabbit Restaurant at the old Ebenezer Chapel on Harding Road — gorgeously restored with beautiful stained glass windows.
Spend time together at LeVel33, the World's Highest Urban Craft-brewery, a brand new concept which presents an unequalled dining experience complete with one of the best views of Singapore's Marina Bay and city skyline. You can also indulge at Lantern, the stylish roof-top bar in the new Fullerton Bay Hotel which boasts inimitable views of Marina Bay. Dance the night away in each other's arms at Avalon one of hottest nightspots on the party scene in Singapore.
Singapore offers many exciting and exclusive options for a couple such as the Spa Botanica in Sentosa , Singapore's first garden spa that is the perfect destination for romantic, luxurious escapades. At Build-A-Bear Workshop you can make your gift to your significant other extra special by creating and customising a teddy bear with your very own hands. The ToTT Cooking Studio allows you to pick up skills to cook for each other and be inspired by experienced instructors and celebrity chefs who impart tips and techniques for a variety of cuisines.
A romantic getaway in Singapore is about spending time together doing fun and enriching activities that cater to your passions and interests. To make it a travel romance you'll remember, ignite your romance in an alluring city that glitters with love. You are invited – to leave as a couple and return as one.