Marine police will help state police beef up security following an IB alert issued recently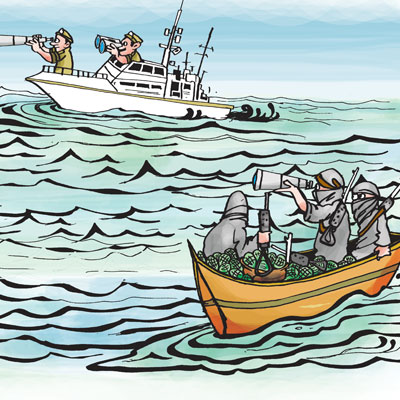 Gujarat Police has become doubly cautious ever since the Indian Mujahideen's (IM) plan to attack some politicians by carrying out blasts at public meetings in the run-up to the Lok Sabha election came to light.
So, it is sparing no effort to secure the entire 1,600 km state coastline following an IB (Intelligence Bureau) alert from Delhi about illegal trespassing in these areas.
"The intelligence department has forwarded a recent alert about the illegal entry of some IM terrorists and other terrorist groups through the coastal areas of the country. Terrorists are likely to target the coastal areas of Gujarat and Maharashtra to enter India. After an alert was issued by the IB, the state police have decided to intensify patrolling in the coastal areas with the help of the state marine police," said sources.
"We have alerted all district superintendents of police and commissioners to take major preventive action during the Lok Sabha election in the state, especially by improving patrolling in the coastal locations of Jamnagar, Devbhumi Dwarka, Veraval, Bhavnagar, Porbandar, Daman and Diu. Marine security and local police have also been put on alert to check the movement of suspicious boats and persons, including fishermen. Coastal police and marine security officers would also increase patrolling along the coast, which is closely connected with the Pakistan coast," said a senior police officer of the state.
Incidentally, the huge shipment of RDX used in the serials blasts that rocked Mumbai on March 12, 1993, landed at Gocabara in Valsad while the band of terrorists from Pakistan, including Kasab, came to Mumbai through Gujarat to carry out the 26/11 terror attack.