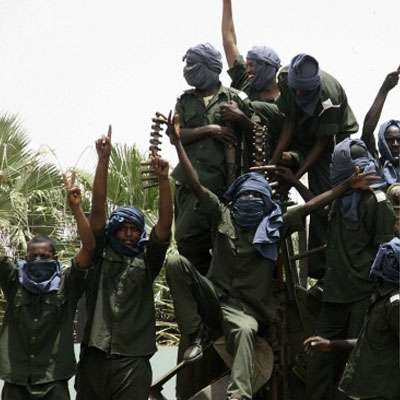 The UN Security Council on Tuesday authorized peacekeepers in South Sudan to focus on protecting civilians instead of state-building activities, backing the use of force by UN troops amid worsening violence in the world's newest nation.
The US-drafted resolution, unanimously adopted by the 15-member council, "emphasizes that protection of civilians ... must be given priority in decisions about the use of available capacity and resources within the mission."
Fighting erupted in South Sudan in December after months of tensions sparked by President Salva Kiir's decision to sack longtime rival Riek Machar from the deputy president's position. Deep ethnic divisions also have fueled the violence, pitting Kiir's Dinka people against the Nuer of Machar.
The council authorized UN troops to "use all necessary means" - code for robust military force - to protect civilians, monitor and investigate human rights abuses, assist the delivery of humanitarian aid and support a cessation of hostilities deal.
The two sides fighting in the oil-producing country, which declared independence from Sudan in 2011, have twice agreed to a ceasefire - in January and then again earlier this month.
A report this month by the UN peacekeeping mission, known as UNMISS, accused government and rebel forces in South Sudan of committing crimes against humanity, including murder, rape and other sexual violence, during the fighting that has left thousands of people dead.
US Ambassador to the United Nations, Samantha Power, earlier this month urged the Security Council to "authorize targeted sanctions against those who continue to undermine South Sudan's stability."
STARVATION LOOMS
The council almost doubled the number of peacekeepers in late December to 12,500 troops and 1,323 police, allowing the United Nations to bring in reinforcements from other missions. But only about half of the troop surge has been deployed.
The council extended that temporary increase on Tuesday for six months and authorized the deployment of new troop contingents instead of reinforcements. A UN official, speaking on condition of anonymity, said it was hoped all 12,500 troops could be on the ground by August.
The council also expressed "deep concern at persistent restrictions placed upon the movement and operations of UNMISS, strongly condemning attacks by government and opposition forces and other groups on United Nations personnel and facilities."
The resolution effectively endorses action being taken by the UN mission in South Sudan, where peacekeepers are protecting some 80,000 civilians at UN bases.
"In response to the crisis, the mission has shifted its emphasis from state building and state support activities to focus on protection of civilians, human rights, humanitarian access and support to the political process," UN peacekeeping chief Herve Ladsous said.
More than one million people have fled their homes in South Sudan and the United Nations has warned that four million people could be on the brink of starvation by the end of the year because violence had disrupted the crop planting season.