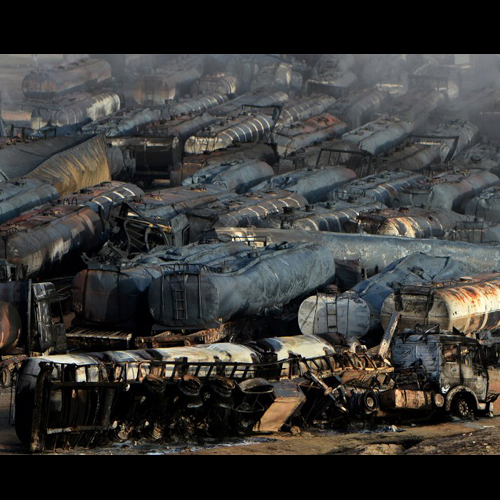 A Taliban bomb attack on the outskirts of Kabul set fire to some 200 fuel trucks that the militants claimed were supplying foreign troops in Afghanistan, officials said Saturday. The tankers were set ablaze as they sat in a parking lot waiting to enter the Afghan capital, which is currently gripped by a fraud dispute over presidential elections last month.
Taliban insurgents fighting a 13-year-war against US-led forces in Afghanistan often attack western supply convoys and claimed responsibility for the late Friday night attack.
"At around 10:30 pm dozens of fuel tankers belonging to private companies caught fire," Kabul police spokesman Hashmat Stanikzai told AFP. "No one can get close to them since the fire is still raging at the scene." No casualties were reported as fire fighters tried to control the fire in the morning, he added.
"I was sleeping in my truck, when I heard three big bangs. After that I saw the fuel trucks exploding one after the other. I fled the area immediately," Janat Gul, a truck driver told AFP.
Kabul police director Gul Aghan Hashimi said a magnetic bomb had been used in the attack. "It was a magnetic bomb that caused the fuel tankers to catch on fire," he said.
A NATO-led International Security Assistance Forces (ISAF) spokesman told AFP they were "looking into the incident to determine if any of the fuel destroyed in Chawk-e Arghandi last night was intended for use by ISAF forces".
The Afghan interior ministry said initial investigations found that 200 trucks had been damaged. The incident took place in Chawk-e Arghandi and comes as the Taliban steps up attacks with NATO forces due to complete their withdrawal from the country by the end of the year.
Taliban spokesman Zabihullah Mujahid said in a statement that fighters belonging to the group had carried out the destruction. "Our brave Mujahideen fighters in a special tactic have set ablaze hundreds of fuel tankers in the west of Kabul, which were supplying fuel and food for foreign forces," he said in a statement.
Also Friday, ISAF said a rocket attack at the United States' main military base at Bagram Airfield had resulted in "minor damages to equipment and one building". It came just a day after Taliban insurgents fired rockets into Kabul airport, destroying the Afghan president's parked helicopter and damaging three other choppers.
On Wednesday, a Taliban suicide bomber in Kabul killed eight military officers travelling on a military bus.
The attacks underlined security fears in the capital which has been relatively peaceful since the June 14 presidential runoff between Abdullah Abdullah and Ashraf Ghani. Kabul has witnessed tense street demonstrations as the two candidates remain locked in a dispute over voter fraud which is threatening to derail Afghanistan's first democratic transfer of power.
US-led allies are eager to avoid a prolonged power struggle as they prepare to leave by December. All NATO combat troops will exit by the end of the year, with about 10,000 US troops staying into 2015 if the new president signs a security deal with Washington.