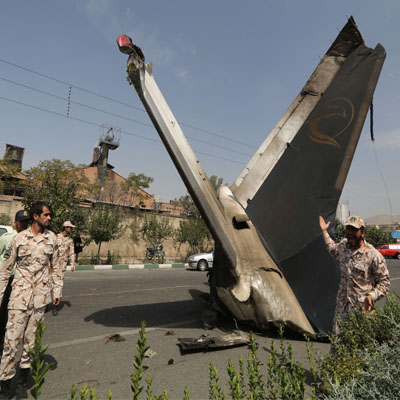 A civilian airliner crashed on take-off in a residential area near Tehran's Mehrabad airport today, Iranian news agencies said, with reports that almost 50 people were killed.
The plane was headed to the eastern city of Tabas, the IRNA and Fars news agencies said, and crashed at 9.18 am (0448 GMT). The official IRINN television channel said the plane crashed in the Azadi neighbourhood, west of the airport.
Iran has suffered a series of airplane crashes, blamed on its aging aircraft and poor maintenance. Many of the Boeing aircraft in IranAir's fleet were bought before the country's 1979 Islamic Revolution, which disrupted ties with the US and Europe. The country has witnessed more than 200 plane accidents in the past 25 years, resulting in more than 2,000 deaths.
Plane crashes at Tehran's Mehrabad airport; 48 reported dead
The Civil Aviation Authority said the passengers included two infants and three children under the age of 12, the official Islamic Republic News Agency (IRNA) reported. IRNA reported that an engine shutdown caused the crash. Read More
11:45 IST Sunday, 10 August 2014
According to Russia Today, the plane had barely left the airport, as it crashed shortly after take off, on the outskirts of the capital at 09:45 (0515 GMT) on Sunday. Reports claim that the bodies of 10 of the dead passengers have already been extracted from the debris.
PLANE CRASH: 10 bodies extracted from debris of #Iran-140 Sepahan Air airliner - reports pic.twitter.com/KfcqeIw5fH http://t.co/Jx4yUycSOz

— RT (@RT_com) August 10, 2014
Primary reports indicate 40 to 48 people killed in #Iran-ian passenger #plane #crash, including 7 or 8 #children. pic.twitter.com/6TJNmXUAn4

— Abas Aslani (@abasinfo) August 10, 2014
Another #PICTURE from #crashed Iranian #airplane in #Tehran, #Iran's capital city. pic.twitter.com/va0ggnGxu0

— Abas Aslani (@abasinfo) August 10, 2014
State television reports that all 40 passengers on board the Iranian jet have been killed. The passengers included seven children.
IRNA reported that an engine shutdown caused the crash.
Iran's aviation sector has suffered repeated crashes which have been blamed by Iranian politicians on international sanctions. Those sanctions have restricted Iranian carriers from buying new aircraft. For years, planes have been kept in service through parts imported on the black market, cannibalised from other planes or reproduced locally, aviation sources say. Read more.