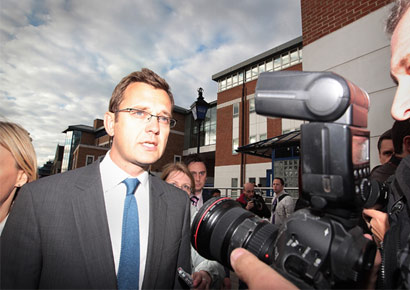 Andy Coulson, a former top aide of British Prime Minister David Cameron, was today sentenced to 18 months in jail for his involvement in the controversial phone-hacking scandal that rocked Rupert Murdoch's media empire here and shut down his popular tabloid.
Coulson, 46, who previously served as communications chief of Cameron, was sentenced at the Old Bailey court in London alongside three former News of The World (NoW) colleagues.
Former chief reporter Neville Thurlbeck, 52, and ex-news editor Greg Miskiw, 64, were jailed for six months.
Journalist James Weatherup, 58, got a suspended four-month sentence and community service while private detective Glenn Mulcaire, 43, received six-month suspended sentence.
The four received shorter terms because they had pleaded guilty; the maximum sentence in such a case is two years.
Members of the British royal family, celebrities and crime victims were among some of the victims of hacking at the now defunct 168-year-old NoW.
Coulson, one of the seven defendants in the high-profile trial, was found guilty of plotting to intercept voicemails between 2000 and 2006 for stories in the tabloid following a marathon eight-month trial. He had denied the charges.
The spin doctor, who once advised Cameron on image and presentation, displayed no reaction during the sentencing.
Murdoch closed the disgraced tabloid in July 2011 after a public outcry when it was known that the Britain's biggest selling paper had illegally intercepted the voicemails of a murdered schoolgirl Milly Dowler.
Judge John Saunders said: "Mr Coulson on the jury's verdict has to take the major blame for the phone hacking at the News of the World." "He knew about it and encouraged it when he should have stopped it."
Former News International chief Rebekah Brooks and four others were cleared of all charges on June 24.
Coulson and the newspaper's former royal editor, Clive Goodman, also face a retrial on a charge of buying royal telephone directories from police officers after the jury failed to reach a verdict on these charges.
Following Coulson's conviction last week, Cameron was forced to make an embarrassing apology for hiring him.
Cameron today reacted to the sentencing saying: "What it says is that it is right that justice should be done, and that no one is above the law, as I have always said." Last week he had said he would not have hired Coulson had he known about his actions at the NoW.
Coulson was appointed Conservative Party director of communications in July 2007, six months after he stepped down as NoW editor.
Coulson was forced to quit Downing Street in 2011 after allegations about hacking intensified.