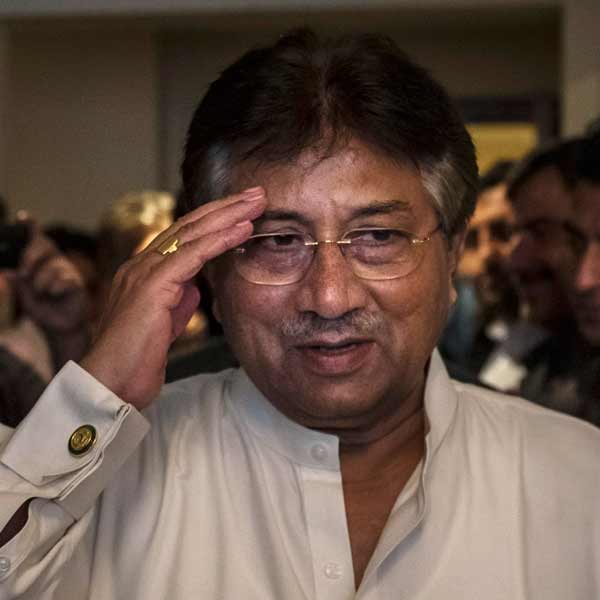 Pakistan's former president Pervez Musharraf's legal team has urged the UN to intervene in his case to prevent a "stage-managed show trial" of the former military general.
His lawyers in London claimed that a treason charge levied against Musharraf, 70, was politically motivated and called on the United States, Britain and Saudi Arabia to denounce the trial to "repay their debt" for his support in the US-led war on terror in the wake of the 9/11 attacks.
"What we have here is a case that has started with the hand-picking of judges by the politicians – or a politician, the prime minister – in defiance of any person's right to a trial that is fair," Musharraf's lawyer Steven Kay told reporters at a press conference in London today.
"The trial is an egregious example of political interference," he added.
The legal team has written to UN human rights chief Navi Pillay and UN special rapporteurs calling for the world body to "urgently intervene and ensure that the former president is not subjected to politically motivated charges." Musharraf faces charges of murder and restricting the judiciary and has been granted bail in all cases, but has been summoned to a court hearing on December 24 to face another charge of high treason.
He has remained confined to his residence in Islamabad because of security concerns and is on a list of individuals not allowed to travel abroad.
The treason accusation relates to his decision in 2007 to impose emergency rule shortly before the Supreme Court was due to decide on the legality of his re-election as president a month earlier, while he was still army chief.
Kay said the judges selected for the trial would be unable to act impartially, particularly since one of them, Faisal Arab, was sacked by Musharraf's government.
"If you've been affected by what took place and then you judge it, there is a conflict of interest because you have an interest in getting retribution," he told reporters.
Musharraf, who returned to Pakistan from self-imposed exile in March, himself spoke for the first time since his house arrest in interviews given to two Pakistani television channels last night. "I will inshallah (God willing) get out of this pressure," he said.