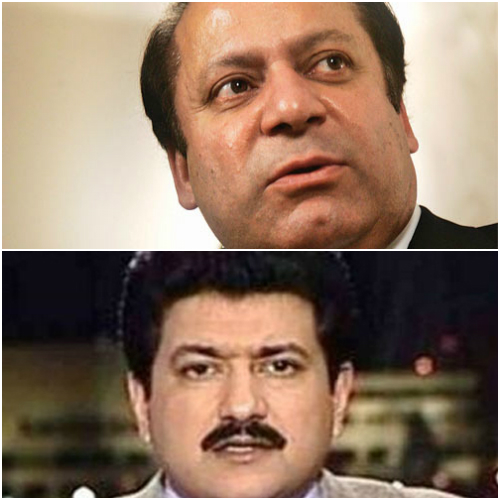 Pakistan Prime Minister Nawaz Sharif on Monday praised the ISI for "ensuring protection and defence of the country" amidst a raging controversy over the recent assassination attempt on senior TV anchor Hamid Mir.
Presiding over a high-level meeting in Islamabad, Sharif said all institutions will continue to work in synergy for the protection of public. "Prime Minister lauded the role and efforts of ISI in ensuring the protection and defence of the country," an official statement said.
His remarks came at a time when a controversy has been generated over the assassination attempt on Mir last week, with the latter's brother blaming "certain elements" in the ISI and its chief Lt General Zaheer-ul-Islam of orchestrating the attack, a charge vehemently denied by the military.
The accusation sparked a controversy, with the Defence Ministry seeking cancellation of the broadcasting licence of Geo News, the country's leading news channel. In an interview on Saturday, Geo TV's leading anchor Mir did not blame the ISI chief but pointed fingers at what he called "ISI within ISI". Mir questioned various groups, some of them banned, taking out rallies in support of the intelligence agency and a number of posters having sprung up in various parts of the federal capital in support of the ISI and the Army.
Pakistan Army chief Gen Raheel Sharif had visited the ISI headquarters soon after the attack on Mir and praised it, in what is seen as a move to show solidarity with the spy agency.
The Prime Minister had not spoken a word on the issue so far but visited Mir in a Karachi hospital.
However, on Monday, Sharif praised the ISI and reiterated that the armed forces and the civilian set up are on the same page. He reviewed the overall security situation in a meeting at PM House, attended by Army Chief General Raheel Sharif, Minister Interior Chaudhry Nisar Ali Khan, Special Assistant to PM Tariq Fatemi, ISI Director General Islam, Secretary to PM Javaid Aslam and Additional Secretary to PM Fawad Hassan Fawad.