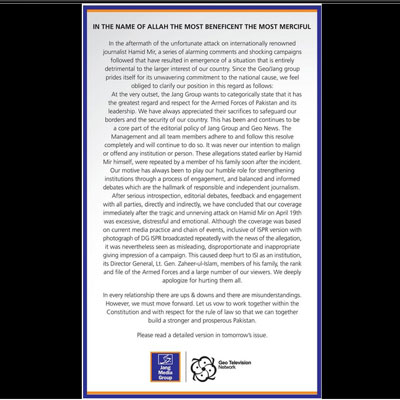 Pakistani media giant the Jang group on Tuesday published an apology in its English (The News) and Urdu daily (Daily Jang) to the country's armed forces and the ISI for hurling allegations on its chief Lt Gen Zaheer-ul-Islam over the assassination attempt on their channel Geo TV's leading anchor Hamid Mir.
Hamid Mir had been attacked by gunmen early in April which had created a huge ruckus over attacks on Journalists in Pakistan.
Stop deadly attacks against journalists in #Pakistan. http://t.co/3lVeJYaPAL #PressFreedom pic.twitter.com/DbWfvvljd7

— AmnestyInternational (@AmnestyOnline) May 22, 2014
The apology also mentioned that the media group was respectful of the Pakistani forces and its leadership and appreciated the sacrifices made to safeguard the country. "We have always appreciated their sacrifices to safeguard our borders and the security of our country," said the apology letter.
The channel had consistently pointed fingers at the ISI head for Hamid Mir's assassination attempt following his brother Amir Mir's allegation. It stood its ground until it began facing pressures from all the country's major game changers-the military, the clerics and the media regulators.
The media conglomerate was cornered into submission after it faced brickbats from the country's army, opposing politicians, media rivals and clerics despite enjoying the ruling party's support.
The apology incidentally came out couple of days before an anticipated ruling by the broadcast regulator.
Under the army's pressure the Pakistan Electronic Media Regulatory Authority (PEMRA) was asked to consider banning Geo TV. Several cable companies dropped or downgraded the channel affecting its audience share.
The clerics went after the channel claiming it had committed blasphemy as the channel had used a Sufi song to mock a celebrity wedding.
All this resulted with the media giant finally conceding its defeat and accepting that the coverage of the incident was "misleading, disproportionate and inappropriate giving impression of a campaign". This despiteteh channel's coverage being in accordance with current media practices as they had included the version of armed forces with photo of DG ISPR televised repeatedly.
Also read: Pakistan media mogul booked under blasphemy, terrorist laws for celebrating Veena Malik's mock marriage with religious songs
Watch one of the apology videos below:
Shaista Wahidi Apologizing For The Geo... by ishoaib
Here's how people reacted:
Geo's apology is not an apology actually it's just business #geo #jangroup #geonews How can you let someone continue with their propaganda?

— Mazhar Ali Joyo (@Mazhar_alij) May 26, 2014
In favour of Geo News after apology of dr.shaista.

— Raheel haq (@raheel_haq) May 24, 2014