South Africa's greatest son and a beacon freedom around the world died peacefully at his home in Johannesburg with family members around him.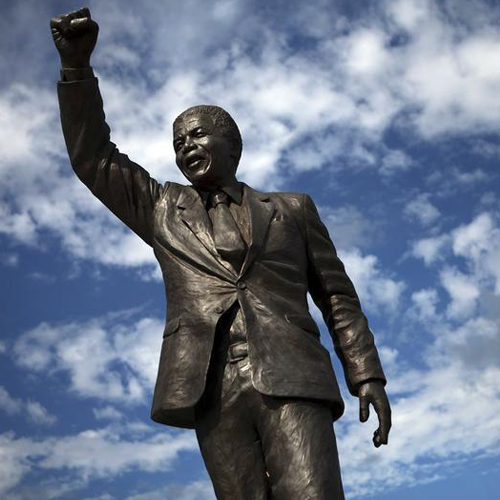 Nelson Mandela, South Africa's first black president and its "greatest son", who led his country out of apartheid and became a hero to millions around the world, died peacefully at his home in Johannesburg on Thursday at the age of 95.
Mandela passed away with family members around him at his home in the Johannesburg suburb of Houghton just before 9pm, after more than a year of ill health caused by a lung infection.
The announcement of Mandela's death came in a televised address to the nation by President Jacob Zuma at 11.30pm in South Africa, or 9.30pm in Britain. It followed several hours of speculation prompted by reports that his family and his friends had been flocking to his bedside. "He is now resting", Zuma said.
"He is now at peace. Our nation has lost its greatest son. Our people have lost a father. Although we knew that this day would come, nothing can diminish our sense of a profound and enduring loss." Zuma announced a period of national mourning and said South African flags would fly at half mast around the world until Mandela's state funeral was held in the coming weeks. His body is expected to be taken to the capital Pretoria, where he will lie in state. "Nelson Mandela brought us together, and it is together that we will bid him farewell," Zuma added.
Latest updates:

12.52pm: Former South African president Nelson Mandela's body has been taken to a military hospital in Pretoria, a media report said Friday. Mandela was admitted to the Medi-Clinic Heart Hospital in June with a recurring lung infection and had been in the hospital for almost three months, according to South African Government News Agency.
11.30am: South Africans wake to a future without Nelson Mandela, and some say they fear the anti-apartheid hero's death could leave their country vulnerable again to racial and social tensions that he did so much to pacify.
8.30am: Mandela's two daughters heard about the demise of their father while attending the London premiere of "Mandela: Long Walk to Freedom". Zindzi and Zenani were informed of the news by telephone "and immediately left the cinema," according to the Nelson Mandela Foundation.
7.30am: The South African government has created a dedicated website where all announcements and information about the state funeral of Nelson Mandela will be uploaded.
4.50am: A news agency reports that a crowd of more than 500 people of different races gather outside Mandela's home for an impromptu vigil singing anti-apartheid songs.
See pix: The life and times of Nelson Mandela
"Let us express, each in our own way, the deep gratitude we feel for a life spent in service of the people of this country and in the cause of humanity." It is not known which of Mandela's family members were with him when he died. He has been married three times and has three surviving children and 17 grandchildren. Mandela's death came five months before the 20th anniversary of his inauguration as South Africa's first black, democratic president, a day for which he endured 27 years' imprisonment at the hands of the apartheid government. The announcement of Mandela's death sent many South Africans on to the streets. Some made their way to his home in Houghton, where they lit candles and sang the struggle anthem Shosholoza. Broadcasters began showing the coverage that they had prepared for so long, and television screens were filled with images of Mandela's well-known salt and pepper hair, his smile-crinkled eyes and bright shirts, beaming broadly as he clutched the hands of nearly every world leader and celebrity of his generation. Tributes were made from around the world.
View pictures from Nelson Mandela's extraordinary life

David Cameron described Mandela as "a hero of our time", while Barack Obama said he "gave me a sense of what human beings can do when they are guided by their hopes and not by their fears". The African National Congress, the party to which he gave his life, said he would remain for them "our nearest and brightest star to guide us on our way". "Our nation has lost a colossus, an epitome of humility, equality, justice, peace and the hope of millions; here and abroad," the party said in a statement.
"The large African Baobab, who loved Africa as much as he loved South Africa, has fallen. Its trunk and seeds will nourish the earth for decades to come." Archbishop Emeritus Desmond Tutu, who together with Mandela and South Africa's last white president, FW de Klerk, earned a Nobel Peace Prize for reconciling his fractured nation, invited its citizens to pray "as a family prays". "We offer a prayer of thanksgiving," he said. "We give thanks to God that saintliness is not a perfection beyond our reach, but that saintliness is embodied by real human beings with all their flaws and foibles."
Mandela's death coincided with the London premiere of the long-awaited adaptation of his memoir, Long Walk to Freedom, which was attended by his daughter Zindzi and the Duke and Duchess of Cambridge. In Johannesburg, members of Mandela's large family joined his wife, Graca, and former wife, Winnie, at his bedside as it became apparent that his long battle with ill health was being lost.
10 things Nelson Mandela said that you have to know

One family friend who went to the house told The Telegraph just hours before his death was confirmed: "I think it's beyond everyone now. It's what everyone knew for months but it's still hard." In recent years, Mandela had suffered from a series of respiratory illness that most recently saw him spend several months in hospital in Pretoria. His release back to his home in September was greeted with none of the jubilation of his previous rallies back to health. This time, South Africans were under no illusion that the end was near. Nelson Rolihlahla (meaning "troublemaker") Mandela began as a fiery young lawyer who battled South Africa's apartheid, first by organising mass acts of defiance and later through armed resistance. When he was jailed in 1962, following a tip-off by the US Central Intelligence Agency, he was seen as a terrorist in South Africa and abroad. By the time he was released 27 years later, his name had become synonymous around the world with the struggle for justice against tyranny and oppression.
Watch video: Nelson Mandela: The president who became a global brand
Mandela's inauguration in 1994 as South Africa's first black president was attended by an estimated 100,000 people of all races, who formed a sea of supporters extending outwards from the lawns of the Union Buildings into Pretoria's streets. The crowds which will gather this week to bid farewell to Mr Mandela are expected to be larger than at any event during his life. A memorial service is expected to be attended by tens of thousands of people including foreign heads of state. Many more will travel to the capital's City Hall where Mandela's body is expected to lie in state for up to a week
Reactions from India:
President Pranab Mukherjee said, "President Mandela was a statesman, world leader and icon of inspiration of humanity. He was a great friend of India and his contribution for strengthening the close ties between our two countries will be always remembered". Mandela was awarded the Bharat Ratna in 1990 in honour of his contribution to the friendship between the two countries. In a brief televised address, Mukherjee said: "The whole world knows of and remembers the contribution of this great personality."
My heartfelt condolences to Nelson Mandela's family & the people of South Africa. We stand by them in this hour of grief.

— Narendra Modi (@narendramodi) December 6, 2013
Many of us are not fortunate to see Gandhi ji alive. We are blessed to see the life of Nelson Mandela, who embodied his values & ideals.

— Narendra Modi (@narendramodi) December 6, 2013
My heartfelt condolences to Nelson Mandela's family & the people of South Africa. We stand by them in this hour of grief.

— Narendra Modi (@narendramodi) December 6, 2013
RIP Madiba. I'm honoured to have met you. Thank you for one of my most prized possessions - your signed book pic.twitter.com/kGrofQkkav

— Omar Abdullah (@abdullah_omar) December 6, 2013
The world has lost a great leader. Nelson Mandela was the father of a free South Africa where all people had equal rights. He will be missed

— Ratan N. Tata (@RNTata2000) December 6, 2013
Deeply saddened by the news of the demise of Nelson Mandela, the most inspirational personality of modern times.

— Arun Jaitley (@arunjaitley) December 6, 2013
It is a sad day for humanity today. World will never forget @NelsonMandela and his thoughts & teachings will live with us forever. Prayers.

— ShivrajSingh Chouhan (@ChouhanShivraj) December 6, 2013
"President Mandela was a giant amongst men": PM's message - pic.twitter.com/g3Eo6BMOZA

— Dr Manmohan Singh (@PMOIndia) December 6, 2013
Deepest condolences to the family & friends of Nelson Mandela. The World has lost a great leader, but most importantly, a beautiful soul.

— Vasundhara Raje (@VasundharaBJP) December 6, 2013
T 1315 - Thank you Vikas .. pic.twitter.com/KbXhmPcGbN ... what a moment !! Nelson Mandela's personalised autograph and picture of our meeting !

— Amitabh Bachchan (@SrBachchan) December 6, 2013
Reactions from all over the world:
Desmond Tutu, archbishop emeritus and anti-apartheid activist: "Like a most precious diamond honed deep beneath the surface of the earth, the Madiba who emerged from prison in January 1990 was virtually flawless ... Instead of calling for his pound of flesh, he proclaimed the message of forgiveness and reconciliation, inspiring others by his example to extraordinary acts of nobility of spirit."

U.N. Secretary-General Ban Ki-moon: "Nelson Mandela was a giant for justice and a down-to-earth human inspiration. Nelson Mandela showed what is possible for our world and within each one of us if we believe, dream and work together for justice and humanity."
Former U.S. President George H.W. Bush: "As president, I watched in wonder as Nelson Mandela had the remarkable capacity to forgive his jailers following 26 years of wrongful imprisonment - setting a powerful example of redemption and grace for us all. He was a man of tremendous moral courage, who changed the
course of history in his country."
Israeli Prime Minister Benjamin Netanyahu: "Nelson Mandela was of the most honorable figures of our time. He was the father of his people, a man of vision, a freedom fighter who rejected violence. He set a personal example for his people in the long years he spent in prison. He was never arrogant. He worked to
mend the tears in South African society and with his character managed to prevent outbursts of racial hatred. He will be remembered as the father of new South Africa and as an
outstanding moral leader."

Chinese President Xi Jinping: "Mr Mandela was a world-renowned statesman, who during the long years led the South African people through arduous struggles to the anti-apartheid victory,
making a historic contribution to the establishment and development of the new South Africa. Mr Mandela, who visited China twice, was also one of the founders of China-South Africa relations, and an active champion of bilateral friendship and cooperation."

Japanese Prime Minister Shinzo Abe: "He fought for the abolition of apartheid with strong will. On nation building, he made a major achievement with focus on the reconciliation of the people. He was a great leader."

U.S. Vice President Joe Biden: "In the hands of Nelson Mandela, hope and history rhymed. This is a better world because Nelson Mandela was in it. He was a good man."

German Chancellor Angela Merkel: "His name will always be associated with the fight against the oppression of his people and with overcoming the apartheid regime. Not even years in prison could break Nelson Mandela or make him bitter - a new, better South Africa eventually emerged out of his message of reconciliation. ... Nelson Mandela's shining example and his political legacy of non-violence and the condemnation of all forms of racism will continue to inspire people around the world for many years to come."
Myanmar veteran democracy advocate Aung San Suu Kyi: "I would like to express my extreme grief at the passing away of a man who stood for human rights and equality. He made us all understand that nobody should be penalised for the colour of their skin or for the circumstances in which he is born. He also
made us understand we can change the world by changing attitudes, by changing perceptions. For this reason I would like to pay tribute to a great human being who raised the standard of
humanity."
Actress Charlize Theron, who was born in South Africa: "My thoughts and love go out to the Mandela family. Rest in Peace Madiba. You will be missed, but your impact on this world will live forever."
Former U.S. President Bill Clinton: "History will remember Nelson Mandela as a champion for human dignity and freedom, for peace and reconciliation. We will remember him as a man of uncommon grace and compassion, for whom abandoning bitterness and embracing adversaries was not just a political strategy but
a way of life . ... All of us are living in a better world because of the life that Madiba lived. He proved that there is
freedom in forgiving, that a big heart is better than a closed mind, and that life's real victories must be shared."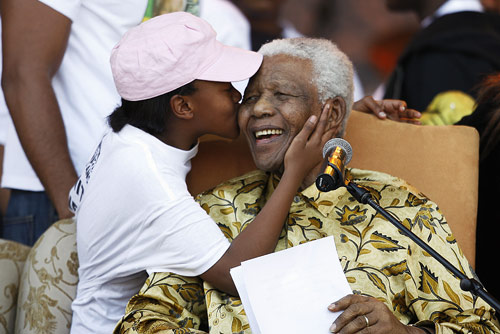 Important dates and events in Nelson Mandela's life:
July 18, 1918 - Born Nelson Rolihlahla Mandela near Qunu, in Transkei (now Eastern Cape), the youngest son of a counsellor to the chief of his Thembu clan.
1944 - Founds African National Congress (ANC) Youth League with Oliver Tambo and Walter Sisulu.
- Marries his first wife Evelyn. They had a daughter and two sons and were divorced in 1957.
1952 - Mandela and others arrested and charged under the Suppression of Communism Act. Given suspended prison sentence.
- Elected deputy national president of ANC.
1958 - Marries Winnie Madikizela. They separated in April 1992 and were divorced about four years later.
1960 - Sharpeville Massacre of black protesters by police.
1962 - Mandela leaves secretly for military training in Morocco and Ethiopia. Returning to South Africa, the "Black Pimpernel" is captured and sentenced to five years for incitement and illegally leaving the country.
1963 - While serving, Mandela is charged with conspiracy and sabotage.
June 12, 1964 - Mandela and seven others are sentenced to life imprisonment on Robben Island, off Cape Town.
February 2, 1990 - F.W. de Klerk, South Africa's last white president, lifts ban on ANC and other liberation movements.
February 11, 1990 - Mandela is freed from prison.
1991 - Elected president of the ANC.
October 1993 - Wins Nobel Peace Prize with de Klerk.
April 27-29, 1994 - South Africa's first all-race election.
May 10, 1994 - Inaugurated as South Africa's first black president.
December 1997 - Hands leadership of ANC to Deputy President Thabo Mbeki in first stage of phased transfer of power.
July 18, 1998 - Marks 80th birthday with marriage to Graca Machel, widow of Mozambican President Samora Machel.
June 16, 1999 - Retires, hands power to Mbeki.
January 6, 2005 - Announces that only surviving son Makgatho Mandela has died from AIDS at the age of 54.
July 18, 2007 - Launches international group of elder statesmen to tackle climate change, HIV/AIDS, poverty and other global problems.
June 26, 2008 - U.S. lawmakers erase references to Mandela as a terrorist from national databases.
May 9, 2009 - Attends Jacob Zuma's presidential inauguration ceremony.
July 11, 2010 - Attends World Cup final between Netherlands and Spain.
June 8, 2013 - Hospitalised for recurrence of lung infection.
July 18, 2013 - Six weeks after being hospitalised, on his 95th birthday, the government says Mandela is improving. Many in South Africa celebrate Mandela Day with 67 minutes of public service to honour the 67 years Mandela served humanity.
September 1, 2013 - Mandela is discharged and returns home after spending 87 days in a Pretoria hospital.
December 5, 2013 - Nelson Mandela dies peacefully at home.
Also read: Hundreds of South Africans gather outside Nelson Mandela's home to pay their respects
Outpouring of emotion as Nelson Mandela passes away

Respects pour in for the great man: Nelson Mandela, an icon of inspiration for humanity: Pranab Mukherjee
Brightest light of our world gone out: David Cameron on Nelson Mandela

South Africa has lost its greatest son: Jacob Zuma on Nelson Mandela's death

We will not see the likes of Nelson Mandela again: Barack Obama