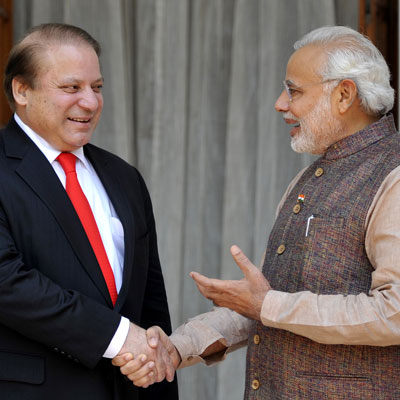 In an epochal move, the heads of two otherwise warring nations met today, after Pakistan Prime Minister Nawaz Sharif participated in the oath taking ceremony of Prime Minister Narendra Modi, yesterday. The swearing in ceremony, in itself was a regional bonhomie with attendance of leaders from the SAARC nations.
However, the repercussion of this inter regional event reverberated across nations, receiving a nod of approval from leaders across the two conflicting countries
Sharif's daughter, Maryam Nawaz Sharif, who from the very beginning lauded Modi's invite and encouraged her father's participation, cheered Modi's compliment to Sharif.
Indian PM Modi refers to PM Sharif as 'MAN OF PEACE'.... Hope negativity fails and peace wins...

— Maryam Nawaz Sharif (@MaryamNSharif) May 27, 2014
What a lovely pic! Kindness turns foes into friends... This is called leadership! pic.twitter.com/WnJGptLff4

— Maryam Nawaz Sharif (@MaryamNSharif) May 27, 2014
Her sentiments were echoed by other Pakistani leaders, across political spectrum, who saw this as an opportunity to carry on peace efforts between India and Pakistan.
Now time to restart composite dialogue so that a series of uninterrupted talks could give a boost to bilateral relations #PakIndiaRealtions

— Hina Butt (@hinaparvezbutt) May 26, 2014
PM Nawaz is going to India he should set an example&take 2polio drops upon departure that would send a very strong msg.Leaders set examples

— Aseefa B Zardari (@AseefaBZ) May 25, 2014
PM Nawaz Sharif's India visit has sent a positive message for peace in the region. All parties must welcome and support it.

— Nafisa Shah (@ShahNafisa) May 26, 2014
At Lahore Airport, PM Nawaz said, he is visiting India with the msg of peace as dialogue is the only sol to our problems.#PakIndiarelations

— Saima Farooq (@SaimaFarooq) May 26, 2014
Kashmiri leader terms PM Nawaz Sharif's visit to India as positive development #PakIndiarelations

— Sania Ashiq (@Sania_ashiq) May 26, 2014
Nawaz Sharif is visiting India after 23 years. Last time he was in India was when he went there to attend the funeral of Rajiv Gandhi,

— Murtaza Solangi (@murtazasolangi) May 26, 2014
Modi and Sharif, earlier today, held bilateral talks on many key issues, including terrorism, 26/11 trials etc. Sharif assured that top diplomats from Pakistan and India would meet soon advancing peace efforts that have moved fitfully because of political tensions between the nuclear-armed rivals. Sharif told reporters that accusations and counter-accusations did not help matters.
Incidentally, the meetings between Modi and Sharif went on for 50-min instead of the stipulated 35 minute.
Prime Minister Nawaz Sharif's statement ... pic.twitter.com/aWBxGNBXlc

— Maryam Nawaz Sharif (@MaryamNSharif) May 27, 2014
And while Modi also met leaders from Afghanistan, Maldives, Sri Lanka, Bhutan, Mauritius and Nepal, needless to say, that his interaction with Nawaz Sharif remains to be the most discussed diplomatic initiative of the day.