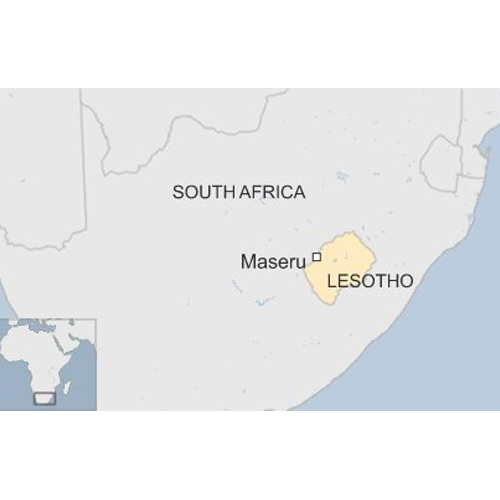 Lesotho's military seized control of police headquarters in the tiny African kingdom early today, a government minister said, describing the events as a coup attempt.
"The armed forces, the special forces of Lesotho, have taken the headquarters of the police," sports minister and leader of the Basotho National Party Thesele Maseribane said.
"The [military] commander said he was looking for me, the prime minister and the deputy prime minister to take us to the king. In our country, that means a coup," he said.
But Maseribane insisted Prime Minister Tom Thabane's government was still in control of the landlocked nation, which is located within eastern South Africa, and said the premier was "fine" without offering details of his whereabouts.
An AFP photographer reported shots ringing out in the early morning hours, and said a reinforced military contingent was guarding the prime minister's official residence and that soldiers were patrolling the streets of the capital Maseru.
Maseribane said he had fled his residence hours earlier after receiving a warning about an impending putsch.
"The prime minister and myself, (we are) still the coalition government. The prime minister is still in power," he said.
"There's still a lot of danger. People who have arms are running around Maseru."
He accused Deputy Prime Minister Mothetjoa Metsing, leader of coalition partner Lesotho Congress for Democracy (LCD), of involvement in the move to seize power.
"There is some intelligence that he is part," he said.
The LCD is part of a shaky coalition which has governed Lesotho since elections two years ago. But, increasingly frustrated with Thabane, the party vowed months ago to form a new government and oust the premier.
In response, Thabane suspended parliament -- with the blessing of King Letsie III who has ruled theconstitutional monarchy since 1996 -- allowing him to dodge a vote of no confidence.
After emergency talks in June, the coalition parties agreed to continue working together.
Metsing could not immediately be reached to comment on today's reported violence, but another LCD government member, Communications Minister Selibe Mochoboroane, denied knowledge of events in the capital.
"I've just heard now," he told AFP, speaking from the countryside.
Two clerics who were part of the team that mediated the deal in June said they were rushing to the capital.