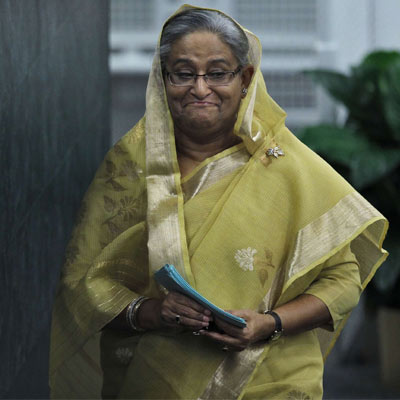 Bangladesh Prime Minister Sheikh Hasina today warned her arch-rival and BNP chief Khaleda Zia that she will be held one day for unleashing terrorism and killing people in the name of anti-government protests. "We believe in justice, the opposition leader will be charged for giving orders for killing and burning people to death in the name of movement and Inshallah (God willing), her trial would be held on Bangladesh soil to this end, and we will hold this trial," she said.
Hasina told a rally at her hometown in western Gopalganj that Zia would be held "one day in Bangladesh" for unleashing terrorism and militancy in the country.
Commenting upon an anti-government rally called by the BNP in Dhaka on December 29, the Awami League President said Zia has planned the march on her day of defeat. "Khaleda Zia has called the rally in Dhaka on the day when the people of Bangladesh had voted the Awami League to power decisively," Hasina, the Awami League President, said while addressing a rally at Faridpur.
The Awami League came to power by defeating the Bangladesh Nationalist Party (BNP) in the ninth parliamentary election on December 29 in 2008.
Zia has urged people to take part in the 'March for Democracy' on December 29 to mount pressure on the government to shelve its plan to hold elections on January 5, which is being boycotted by the opposition alliance.
Hasina, who launched her party's electoral campaign at the rally, said the BNP was agitating since it would not join election without the war criminals.
With the two leaders failing to mend their rift, political violence and polarisation have deepened in Bangladesh that have claimed around 130 lives since October.
The BNP-led 18-party opposition alliance escalated their anti-government campaign after Hasina turned down its demand to step down and install a neutral caretaker government to oversee the polls.