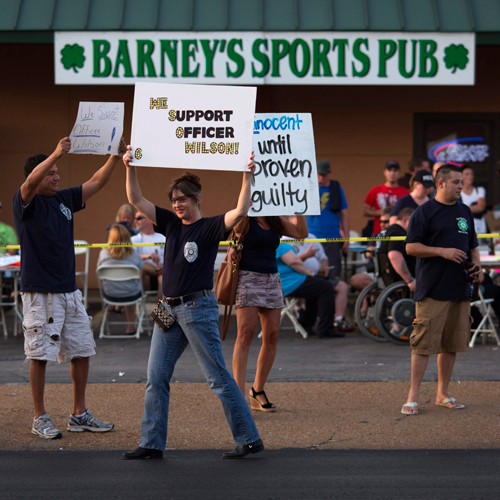 On Sunday afternoon, under the bright hot sun, a group of people took to the street of Ferguson, Missouri, chanting just one phrase - "I am Darren Wilson."
Darren Wilson was once an unknown face in the criminal justice system, but has since shot to worldwide recognition as the police office who fatally shot an unarmed African-American teenager named Michael Brown. Since then the world has been watching as this death sparked a wide amount of activity in the small Missouri town.
Sunday's gathering began to rapidly build up outside a local pub in South St. Louis. There were as many as 70 people crowding around a table which claimed to have raised thousands of dollars for Wilson. A press conference was held about the same, in which the group shouted out in unison, "We are Darren Wilson."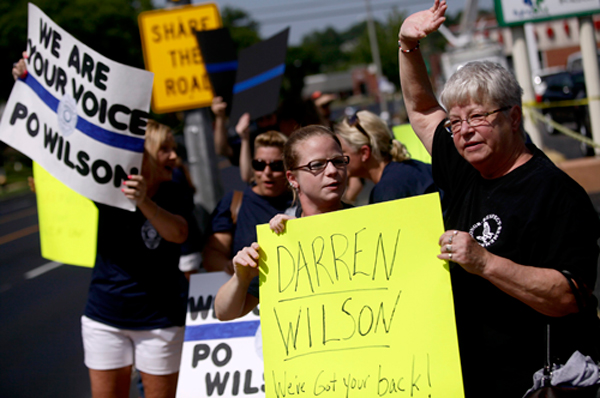 Read Also: Trayvon Martin's parents to join rally for slain Ferguson teen Michael Brown
Although participants did not want to talk to the media, Buzzfeed reports that a police officer and one of the organisers named Mark explained that the point was to reassure Wilson that people still did think "he's a good officer and that they "have his back." Buzzfeed further reported that most people were reluctant to talk to the media, however one did give them a statement saying that he knew Wilson personally and that Wilson wasn't a racist. As per Buzzfeed's reports there were still those who were willing to speak out. Tina Morrison said, "We'll all see this in the end that it was a good shooting. You know, it was a good kill."
She goes on to tell Buzzfeed, "And had I been terrified for my life I would have killed him too," also adding that "I totally believe what he did was the right thing."
The above video shows that this was not the first instance of protests standing behind the accused Darren Wilson. Huffington Post's video, shows Jeremy Arnold protesting while holding up a sign in support of Wilson, claiming that "(Michael Brown) got exactly what he deserved."
Huffington further reports that Arnold traveled from Fairview Heights, Illinois, for the Wilson event at Barney's Sports Pub which began on Saturday and continued on Sunday. The event was announced on one of the numerous 'Support Darren Wilson' Facebook pages, which has reportedly raised more than $200,000 for the Ferguson police officer as well as amassed a large number of supporters to the cause.
The Huffington Post also received a statement by Sharon, one of the participants at the rally in which she explains that there are two sides to every story, "and I think he (Darren Wilson) has gotten such a bad rap".
Although, there was a large turn out in support of the Ferguson police officer, there were residents that were not happy with the protest.
Local resident Graham Stewart showed up with a sign with the words "end police brutality," reported Buzzfeed. He also released a statement to the website, "It's really upsetting to me that this rally is taking place in my neighborhood," he said. "It's really upsetting to me that they seem to have the support of many of the people who live here, or who are at least driving by." Graham also argued that though there are many who are upset about Brown's death, there are those that want to make sure there's an impartial investigation and the support comes to the accused simply because he's a police officer.
Read Also: 'Moved' Barack Obama says murdered black boy Trayvon Martin could have been him 35 years ago