At least 14 people have been killed and 140 others injured in three weeks of anti-government protests in Venezuela.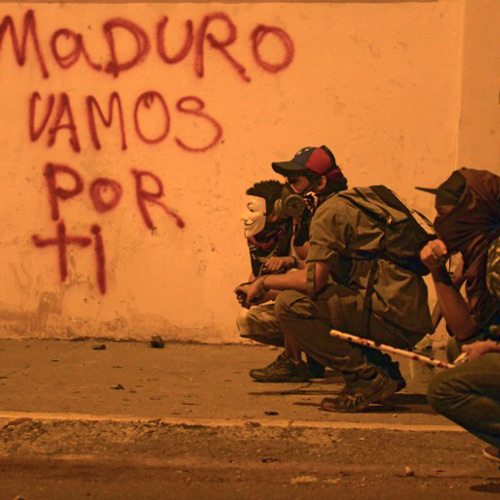 Venezuela is the latest addition to the list of countries seeing violent anti-government demonstrations, after Thailand and Ukraine. While these two countries have been experiencing unrest for months, protests in this South American OPEC nation began early this February.
On the top of the list of Venezuela's woes is the alarming rise in violent crime in the recent years. According to a recent UNODC report, Venezuela has the fifth highest murder rate in the world.
This was harshly underscored by the shocking killings of former beauty queen Monica Spear and her ex-husband on January 8 this year. The two were shot dead by gunmen in front of their five-year-old daughter on a highway while returning from a vacation after their car broke down, in what is suspected to be a failed highway robbery attempt.
People gather to protest and mourn the death of former beauty queen Monica Spear (inset) in Caracas.
Venezuela also faces acute economic problems, including the fast-rising cost of living, one of the highest rates of inflation in the world, and product shortages, especially of some basic staples.
Sporadic political protests of varying intensity have been common over the last decade or so. But they have normally fizzled out after a few days.
The recent unrest started in the states of Tachira and Merida in western Venezuela. But when the government began arresting student leaders – about 19 people by February 11 – the protests quickly spread to Caracas, the capital of Venezuela.
Violence broke out on February 12, after an anti-government rally had wound down and most of the demonstrators had returned home. A small group of protesters clashed with the police. At least three people were shot dead, 23 others injured, and 25 arrested.
A car set on fire after clashes between protesters and security forces.
The next day, the government ordered the arrest of hardline opposition leader and founder of the Popular Will party Leopoldo Lopez, on charges including murder and terrorism linked to the previous day's violence. The US-educated former mayor has been the main instigator of the demonstrations against the government under the banner "The Exit", in reference to Maduro's departure.
Apart from the capital city of Caracas, rallies are also being held in other major cities like San Cristobal, Maracaibo and Valencia.
Lopez handed himself over to the authorities on February 18, during a rally attended by thousands of his supporters.
Opposition leader Leopoldo Lopez is escorted into an armoured vehicle after he surrendered.
Since his arrest, there have been daily protests demanding his release, attended by thousands.
Rival marches by supporters of the government have also drawn thousands of Venezuelans.
The unrest has claimed the lives of at least 14 people so far, including 22-year-old beauty queen Genesis Carmona, who was shot in the head. Around 140 others have been injured. Security forces have fired tear gas and bullets, and used water cannons on the protesters, who retaliate by throwing Molotov cocktails and blockading streets with burning trash.
Protesters wear Guy Fawkes masks painted with the colours of the Venezuelan flag.
Demonstrators throw tear gas bombs back at riot policemen during an anti-government protest in Caracas.
Activists prepare to throw a molotov cocktail at riot police during a protest in San Cristobal, capital of the western border state of Tachira.
From jail, Lopez has urged supporters to keep demonstrating peacefully against President Maduro. On February 22, tens of thousands of Venezuelans attended an anti-government rally in Caracas.
Venezuelans at an anti-government rally in San Cristobal.
President Nicolas Maduro, who came to power after the death of former leader Hugo Chavez, says the protests are orchestrated and backed by foreign powers who want to topple him, and has termed opposition leaders as fascist.
Venezuelan President Nicolas Maduro.
He ordered the expulsion of three US diplomats, accusing them of conspiring against the government to incite the protests. Despite this, he soon after called on US President Barack Obama to hold dialogue with the Venezuelan government. The US dismissed the charges against its diplomats as baseless and, in a tit-for-tat move, expelled three Venezuelan embassy officials on February 25.
President Maduro has also been accused of restricting free speech and media blackouts, with news organisations being prevented from airing coverage of the unrest. Maduro has dismissed these allegations and insisted that he is simply seeking to prevent the media from causing panic.
(With inputs from agencies).