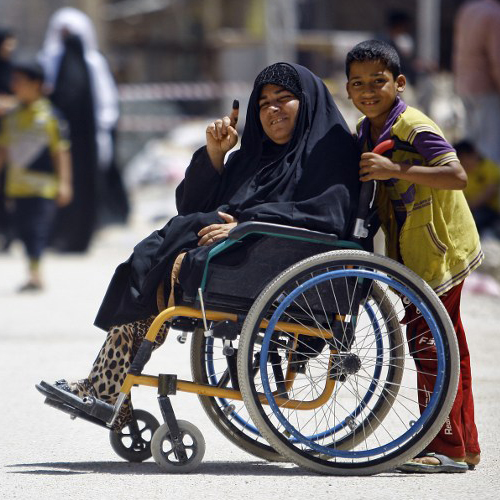 Braving the threat of daily bombings, Iraq voted in its parliamentary election on Wednesday, April 30. This is the first election since United States troops withdrew from the country in December 2011, almost three years ago.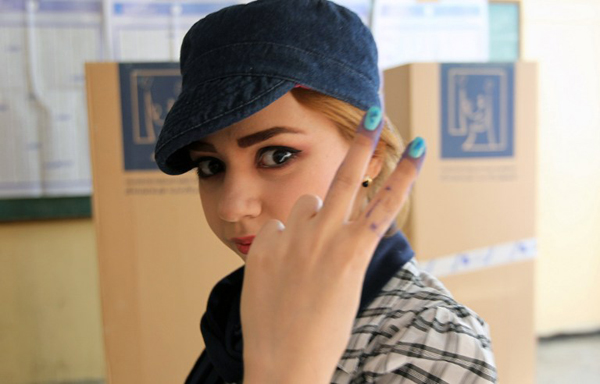 A young Iraqi woman shows her ink-stained fingers after she voted in the country's parliamentary election in the capital Baghdad on Wednesday.
Security was extremely tight as Iraq is witnessing unprecedented sectarian violence, the worst since 2008. Militant attacks, including a surge of suicide and car bombings, have occurred since Monday, April 28, in an attempt to discourage voters from going to the polls and derail the election process.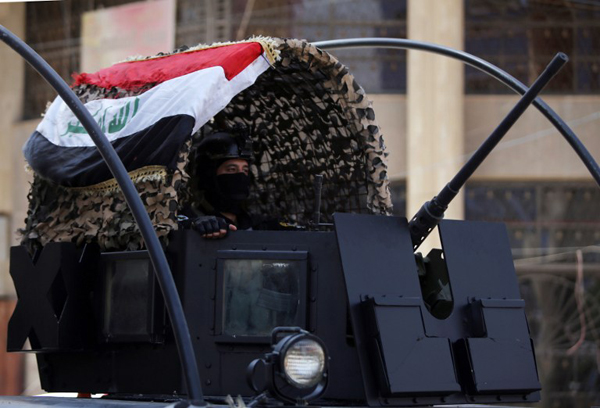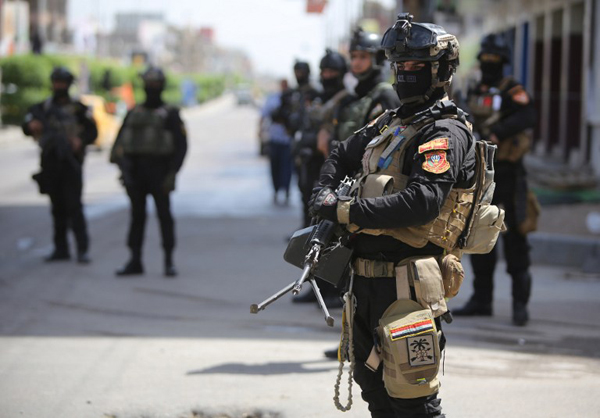 Members of Iraq's anti-terrorism force are deployed outside polling stations in central Baghdad. There was bloodshed across Iraq on Monday, April 28, which included nine suicide bombings and several other blasts.
Reports say more than 750 people have been killed in this month alone, and around 2,000 have died in the last four months.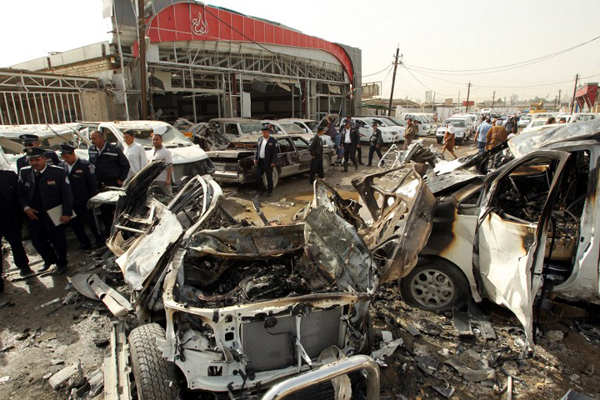 Above: Iraqi policemen inspect the site of a car bombing in Baghdad in March 2014. Below: Heavy smoke billows from Baghdad's historic Shorjah market, which dates to the Abbassid era over 700 years ago, after it was hit by two bomb blasts on February 13, 2014, killing at least two people and wounding at least 11.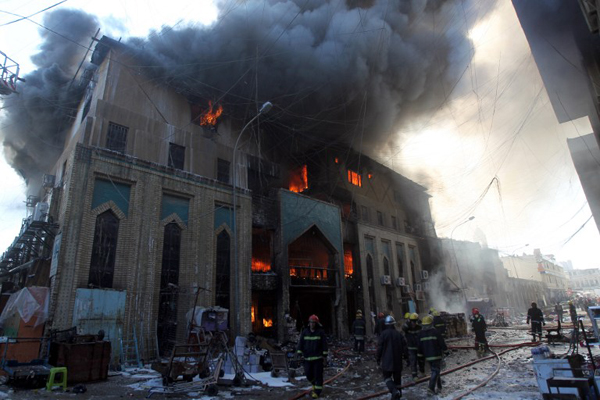 Due to the high incidence of fatal car bombings in the recent past, authorities imposed a polling day ban on all vehicular traffic in and around the capital Baghdad, forcing voters to walk to the polling booths. The capital is reported to be "in lockdown".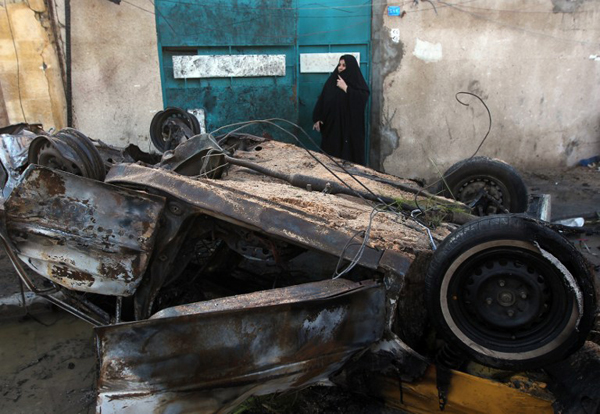 An Iraqi woman stands near a destroyed vehicle at the site of a car bomb explosion in Baghdad's Shuala area in January 2014.
Heavy security was in place inside the polling stations as well, with multiple security checks before the voters could cast their ballots. Like in India, polling began at 7.00 am and ended at 6.00 pm.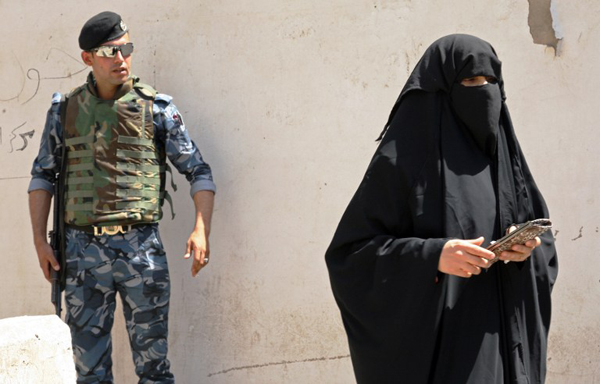 A fully-veiled Iraqi woman walks past a member of the Iraqi security forces outside a polling station in Baghdad's upscale Mansour Sunni district on April 30.
Iraq's one million strong military and security forces cast their votes earlier on Monday, April 28, so that they could be free to oversee and protect polling stations and voters on Wednesday.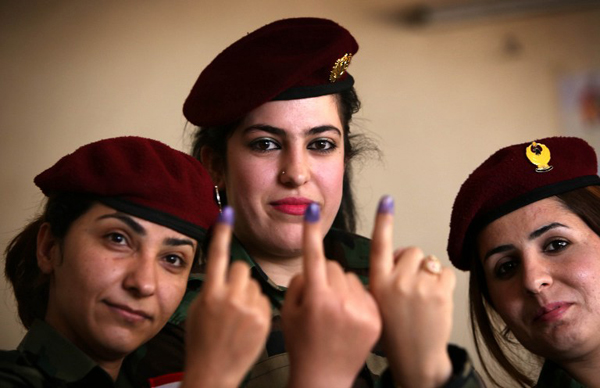 Members of the Kurdish Peshmerga force show their ink-stained fingers in the northern Kurdish city of Arbil on Monday, April 28, after casting their ballots in special voting ahead of Iraq's general election.
Around 22 million Iraqis were registered to vote at 50,000 polling stations across the country, though the voter turnout was not expected to be very high due to the ongoing unrest. However, many Iraqis said they were determined to vote, voicing disdain for the current government.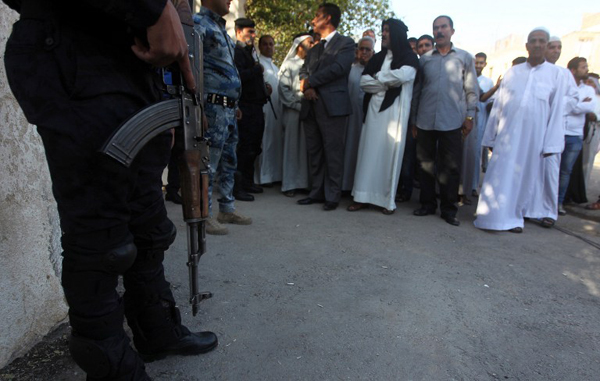 Members of Iraqi security forces stand guard as voters queue outside a polling station in Baghdad's Sadr City district on April 30.
Iraqi nationals living abroad in the Middle East and Europe also voted. They will decide the fate of over 9,000 candidates competing for 328 parliamentary seats.
Incumbent Prime Minister Nouri al-Maliki, 63, is hoping to win a third four-year term in office. He has, however, been accused of concentrating power and marginalising the Sunni minority.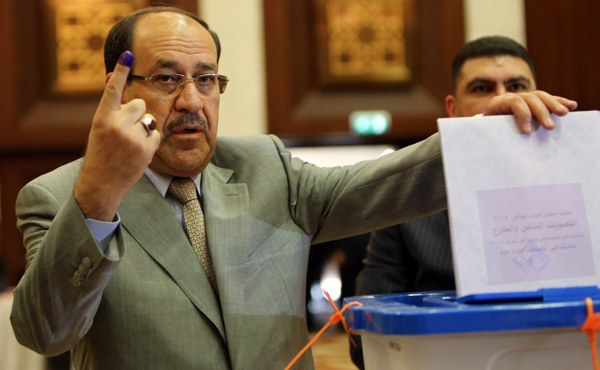 Iraqi Prime Minister Nuri al-Maliki casts his vote at a polling station in Baghdad's fortified Green Zone on Wednesday.
Maliki has, however, blamed the violence on jihadists he says are infiltrating Iraq from war-torn neighbour Syria, and has accused Gulf Arab states, including Qatar and Saudi Arabia, of backing the insurgents.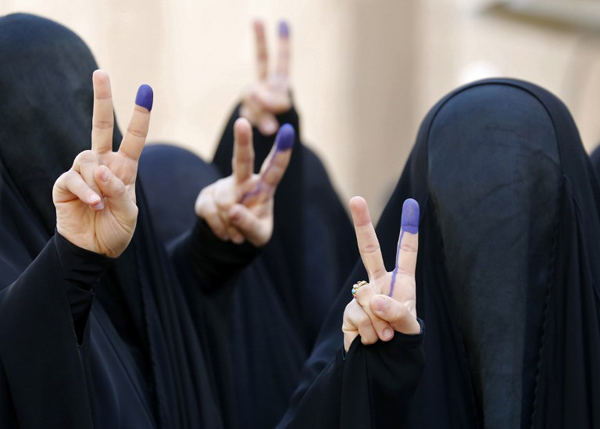 Fully-veiled Iraqi women flash the sign for victory with their ink-stained fingers after voting at a polling station in Baghdad's Karrada commercial district.
Iraq faces several urgent issues apart from the ongoing sectarian violence.
As a result of political conflict, relations between its Sunni and Shia communities have deteriorated to such an extent that the nation is on the brink of civil war as well as territorial disintegration, since the Kurds have been pushing for an independent sovereign state for many decades. One of the foremost issues is to work out the power sharing between these three ethnicities.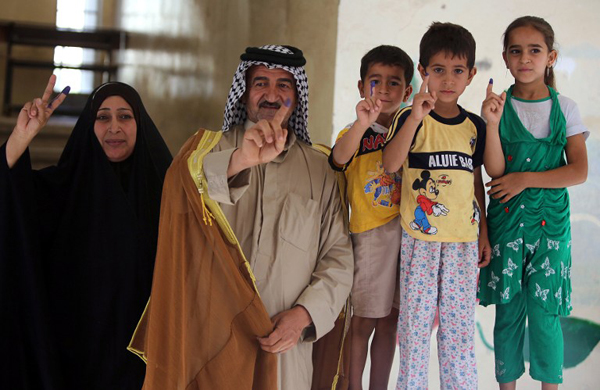 An Iraqi family displays ink-stained fingers after the parents voted at a polling station in Baghdad's Sadr City district.
Terrorism is another worry the country is facing, with rising al-Qaeda insurgency. Added to that is the growing influx of refugees from neighbouring Syria, which has witnessed three years of internal strife and ethnic conflict.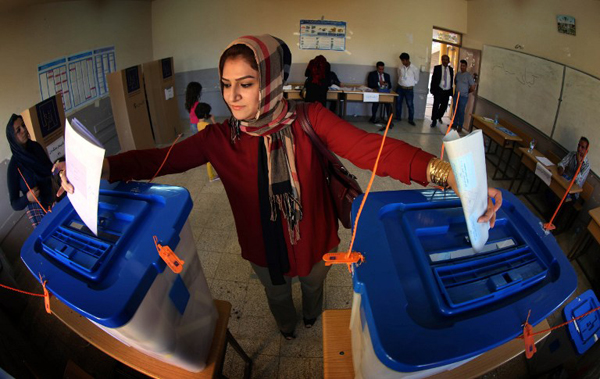 An Iraqi woman casts her vote in Iraq's parliamentary election (ballot-left) and in a postponed Kurdish regional election (ballot-right) in the Iraqi city of Kirkuk on April 30.
Iraqis have a long list of grievances, including poor public services and high unemployment. They have accused the prime minister of doing little to improve these, or to curb the rampant corruption or tackle the country's worst violence in years.