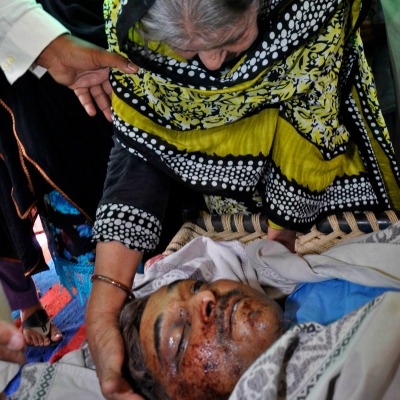 Pakistani authorities should conduct a prompt and impartial investigation into the May 7, 2014 killing of human rights activist and lawyer , Human Rights Watch said today.Those responsible should be fully and promptly prosecuted, it said.Rehman's killing, an apparent reprisal for his willingness to represent people charged under Pakistan's blasphemy law, underscores the urgent need for the government to repeal that law, Human Rights Watch said.
Two unidentified gunmen killed Rehman in his office in Multan, Punjab province. Several weeks earlier, Rehman had been threatened with "dire consequences" for defending Junaid Hafeez, a lecturer at Bahauddin Zakariya University who was facing prosecution under Pakistan's blasphemy law. Hafeez allegedly disseminated blasphemous statements via his Facebook account, though it is not known what he said, since republishing the statement could lead to blasphemy charges against those who republish it.
"Pakistan's vaguely worded blasphemy law has led to discrimination, persecution, and murder since its imposition almost three decades ago. It should be reformed or repealed immediately," said Brad Adams, Asia director at Human Rights Watch."It is appalling that lawyers who defend the rights of people charged with blasphemy should themselves become the targets of deadly violence," he added.
Rehman's killing follows a spate of recent prosecutions under the blasphemy law, section 295-C of Pakistan's penal code.Section 295-C makes the death penalty effectively mandatory for blasphemy, though to date there have been no executions for the crime. However, thousands have been charged under various provisions of the law since it was introduced, including several dozen in 2013 alone.
At least 18 people are currently on death row for blasphemy in Pakistan, while another 20 are serving life sentences.In recent years, a campaign of high-profile assassinations, threats, and intimidation by extremists has had a chilling effect on efforts to reform the blasphemy law, Human Rights Watch said.
In 2010, Punjab Governor Salmaan Taseer and Pakistan's Minorities Minister Shahbaz Bhatti were assassinated for supporting reform of the law. Pakistan's former ambassador to the United States, Sherry Rehman, was charged under the blasphemy law for introducing a reform bill in parliament the same year. She remains under threat from extremists and yet the courts have been unwilling to acquit her.
The blasphemy law is largely used against members of religious minorities, while the government rarely brings charges against those responsible for attacks on people accused of blasphemy. The law is also often manipulated to settle personal disputes.Prime Minister Nawaz Sharif has not spoken out against the blasphemy law and the threat it poses to Pakistan's religious minorities.
Human Rights Watch urged concerned governments and intergovernmental bodies to press the Pakistani government to revise or repeal section 295-C of the Pakistan Penal Code, which includes the blasphemy law.A moratorium should also be placed on the death penalty, which Human Rights Watch opposes in all circumstances because of its inherent cruelty and irrevocability. Governments should also urge Pakistan to prosecute those responsible for planning and executing attacks against religious minorities.
"As things stand, even an accusation of blasphemy can mean prison, death, or exile. Prime Minister Nawaz Sharif needs to end his silence on the blasphemy law and act to ensure all Pakistanis can live free from fear and discrimination," Adams said.