Barack Obama's old-fashioned deployment on the stump of former president Bill Clinton, who travelled tirelessly around swing states telling 1990s-nostalgic Americans that Obama was the heir to his policies, was a masterstroke.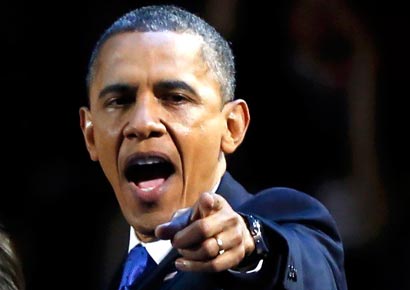 As the ultimate swing county of the ultimate swing state, Ottawa, in northwestern Ohio, should have been abuzz with Republican activists last week frantically campaigning for Mitt Romney.
Its 40,000 residents on the banks of Lake Erie had in every election since 1944 voted for the candidate who went on to win Ohio, the state that had in every election since 1964 voted for the man who went on to win the White House.
Like George W Bush and Barack Obama, Romney would probably need to swing it his way to win Ohio's precious 18 electoral college votes.
Yet his troops were nowhere to be seen. Anyone stumbling across the Romney office in Port Clinton - a brightly-lit empty shop - were greeted by Justine and John, an elderly married couple, who were neatly stacking piles of stickers. "Hello dear," said Justine.
Two boys, the sons of local party officials, returned prematurely from a rain-soaked canvassing trip with clipboards holding soggy scraps of paper bearing a few smudged names of local residents, before running home to do something more enjoyable. Meanwhile, in a shabbier office just five minutes away, Olivia, a graduate of a leading university who had been parachuted in from New York, was directing energetic young volunteers using a sophisticated software system to methodically make phone calls urging for the re-election of Obama.
Politely but insistently, they asked how residents planned to vote, when they planned to vote, and whether someone could visit them to drive them to a polling station right away. Meanwhile, teams of cheerful canvassers were fanning out across the county, using a tight script to persuade the undecided at the doorstep. "We never see Romney people," said Craig Leslie, 34, a first-time volunteer. "They just don't have the boots on the ground."
As volunteers completed more shifts, they received loyalty points, giving them access to conference calls with leading Obama officials and other rewards giving a sense of "buy-in" to the campaign.
On Tuesday, Obama won Ottawa by four percentage points, triumphed in Ohio and secured another four years in the White House. Except for North Carolina, a traditionally conservative state, he looked likely to have won all the battleground states, including Florida, by replicating this bombardment.
The sharply contrasting picture of campaigning in such politically-crucial areas is typical of the superior "ground game" played by Obama's campaign.
Mitt Romney's presidential efforts were crushed in a year when the incumbent president should by rights have struggled.
Obama prevailed by using this supercharged and digitally-driven get-out-the-vote machine to hold together the coalition of ethnic minorities, young women, students and the liberal urban classes among whom he stoked fears of a return to the era of Bush.
The raw numbers were mind-boggling: more than 125 million personal phone calls to voters, 1.7 million new voters registered, 700,000 canvassing shifts and 5,100 local "hubs" designed to maximise every last ounce of traditional Democrat advantage in early voting.
This army of foot-soldiers was allied in the final stages of the campaign to the celebrity pulling power of artists such as Bruce Springsteen for the parents, hip-hop rapper Jay-Z for the young adults and, for the kids, the pop talents of Katy Perry, who ensured massive attendance at Obama's closing events. As became well-known during the campaign, Obama's Hollywood supporters, such as George Clooney and Sarah-Jessica Parker, were used to snare the big donors at $50,000-a-plate dinner parties for the liberal elite.
However, less appreciated was the importance of campaign lotteries for a chance to dine with "Sarah-Jessica" or "George". On entering, young supporters handed over precious personal information that enabled Obama For America to add to its already-unrivalled database, which it then mined to startling effect for donations, attendance at events and eventually voters.
The precise algorithms were closely guarded secrets - "our nuclear codes" as a campaign strategist called them. By combining biographical information with consumer habit data, the campaign was able to micro-target donors and voters with unmatched efficiency.
Some elements of Obama's victory were traditional. His bold decision to bail out the US car industry won him huge credit against Romney, who advocated letting the market take its course.
The decision was ruinous to Romney in Ohio, where one in eight jobs is connected to the auto industry, and where 59% of voters told exit pollsters that they approved of the bail out. It also helped guide Obama back to victory in Iowa, Michigan and Wisconsin.
The president's compassionate pledge to give direct help to a middle class that sees its wages falling and future prospects diminishing also neutralised Romney's claims to understand the pain of small business-owners thanks to his career in the private sector.
After blitzing the airwaves with advertisements painting Romney as a heartless plutocrat, Obama beat the Republican by a crushing 82% to 17 in terms of who cared more about the concerns of the common man.
Romney was not helped by his own dismissal of "47%" of Americans as government-dependent "victims", nor by his off-key singing of "America The Beautiful" - both of which provided fruitful footage for television adverts.
One ad that played Romney's rendition of the patriotic song over footage of the sun-kissed tax havens in Bermuda and the Cayman Islands where he had parked some of his assets, was described by a Republican strategist as "the most gently brutal ad I have ever seen".
Obama's old-fashioned deployment on the stump of former president Bill Clinton, who travelled tirelessly around swing states telling 1990s-nostalgic Americans that Obama was the heir to his policies, was a masterstroke.
The debt owed to the 42nd president by the 44th is considerable, and apparently acknowledged - between being confirmed the winner and appearing onstage on Tuesday night, Obama called one person: Clinton.
Yet for all Obama's success in motivating his natural constituencies, in the critical tight corners - the suburbs of Cleveland in Ohio, the northern corners of Virginia - it was the digitally-driven turnout machine that was the difference.
Romney's team could not compete, choosing to run a blunter, more old-fashioned campaign. A prolonged crash on Election Day of ORCA, the digital system used by the Romney team to track voter numbers across the country, summed up their woeful inadequacy.
The end result of the Obama team's relentless microtargeting was that even though the Republicans lost the popular vote by one per cent, they fell about 100 votes short of the 270 Electoral College votes needed to claim the White House.
Looking forward to 2016, an analysis by the Washington Post found that so seismic are the demographic shifts against the Republicans that the upper ceiling of the party's winnable states may be as low as 292 Electoral College votes.
It is a margin that must deeply alarm the Republican high-command - and spur them to adopt a more smartly-driven, inclusive agenda or risk facing years in the electoral wilderness.