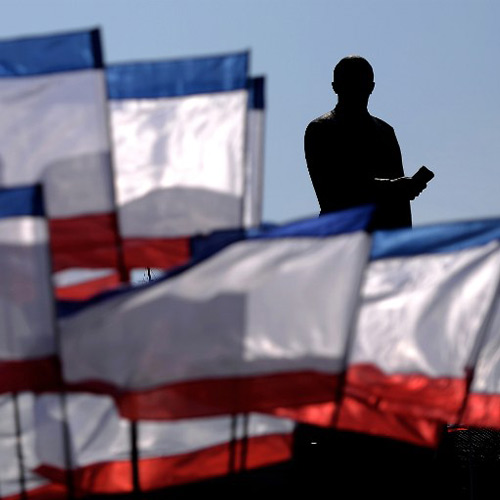 Crimea, a strategic Black Sea peninsula handed to Ukraine by a Soviet leader 60 years ago is now the epicentre of a crisis that pits Russia against the West.
The scenic vacation spot hosts Russia's Black Sea fleet and is home to many ethnic Russians wary of Ukraine's new leaders in Kiev.
Crimean tensions boiled over after Russian-leaning president Viktor Yanukovych was ousted last month. Regional officials have declared independence and called a referendum to confirm secession and annexation to Russia on Sunday.
Nikita Krushchev's gift
The territory, about the size of Belgium, is an agricultural region with vast vineyards and tobacco plantations. Crimea also draws tourists with its subtropical climate and seaside resorts.
Its history is marked by invasion and occupation, with Huns, Venetians, Byzantine Greeks and Ottoman Turks controlling its seaside cliffs and rich farmland over the centuries.
Moscow's reign began in the 18th century, when the Black Sea Fleet dropped anchor in 1783 in what is today the southern city of Sevastopol. Russia's rule was briefly interrupted by occupying German troops during World War II.
In May 1944, Soviet leader Joseph Stalin deported Muslim Tatars from Crimea, where they had lived for centuries, to Central Asia on charges of having collaborated with the Nazis.
Allied leaders chose the Crimean resort of Yalta in February 1945 to decide what Europe would look like after the war.
In 1954, Soviet leader Nikita Khrushchev transferred Crimea as a "gift" to Ukraine, a largely symbolic move because both Ukraine and Russia were Soviet republics.
But when the USSR collapsed in 1991, one of Moscow's biggest fleets was moored in a newly independent country.
Exiled Tatars began trickling back, and made up about 12% of the population in a 2001 census. They generally backed recent demonstrations in Kiev that called for closer relations with western Europe.
Ethnic Russians accounted for a bit more than 58%, while ethnic Ukrainians were at 24%.
Russia's Black Sea gate
The presence of Russia's Black Sea Fleet in Sevastopol has undermined relations between Ukraine and Russia.
The port provides Moscow with quick, ice-free access to the Mediterranean, Balkans and Middle East.
In 2010, Ukraine extended Moscow's lease on the port to 2042 in exchange for a 30-percent cut in the price of Russian gas on which Ukraine depends.
But Moscow remained wary about its reliance on Kiev and began building a new base on its own coast at Novorossiysk.
Meanwhile, on February 27, pro-Russian gunmen seized the parliament and government buildings in the regional capital Simferopol, raising the Russian flag.
Since then, troops bearing sophisticated weapons issued to Russian special forces have surrounded Ukrainian military installations and demanded they be turned over.
On March 11, regional officials adopted a "declaration of independence" backed by Moscow but deemed illegitimate by Western countries.