The president surged ahead of his rival only after the results of the crucial state of California, with the largest electoral college of 55 votes, went by his side.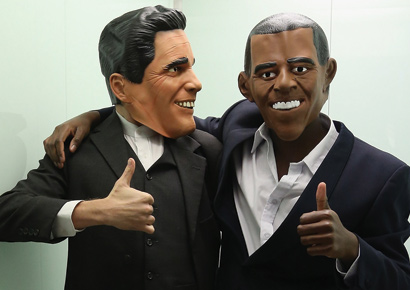 Barack Obama today won a second term in office overcoming a stiff initial challenge from his Republican challenger Mitt Romney after clinching convincing victory in the crucial state of California.
The 51-year-old first African-American president was projected by television channel CNN as having won the second term with 274 electoral votes after exit polls gave him California in west coast which has 55 electoral votes.
It projected Romney has having secured 201 votes in an electoral college of 535 votes. The winner has to garner at least 270 votes.
Obama became only the second Democrat to win a second term in White House since World War II.
With some swing states, including Florida and Virginia, yet to be declared, Obama already had 275 electoral votes.
Obama, who was elected four years ago on the plank of "real change", had a tough time answering questions on issues like unemployment and handling economic recession.
Opinion polls had given him only a slight advantage but the tackling of the after-effects of superstorm Sandy appeared to have given him some edge.
Romney's aides had hoped that a late wave in favour of the Republican candidate would oust Obama on account of a sluggish recovery from the worst economic crisis since the 1930s Great Depression and high unemployment.
The mood at Romney headquarters in Boston turned subdued after networks declared his rival the winner.
Defeats in New Hampshire, Romney's summer abode, and Wisconsin, the home of Republican vice presidential nominee Paul Ryan, were especially disheartening for the Republicans.
Polls also showed that though only 39% of people believed that the economy was improving, around half of Americans blamed former President George W Bush for the gloomy scenario, and not Obama.
Television networks projected that Republicans would win the House of Representatives, while the Democrats clung onto the Senate.
Till California was called, Romney had a comfortable lead over the President with another crucial state Florida saw a tight race between the two with a slight edge for Obama. Florida has 29 electoral votes.
Moments after network predicted his victory, Obama went online to thank voters for giving him a second term.
"This happened because of you. Thank you. Four more years," Obama tweeted on his official account.
As television networks projected that Obama was on the road to victory once again, his supporters flooded the campaign headquarters in Chicago, the hometown of the President. Celebrations erupted as Democrats raised slogans and reveled in victory.
Hundreds and thousands of supporters of Barack Obama across the country from his home town Chicago to Times Square in New York erupted in celebrations.
Romney, 65,a businessman, had gained momentum in particular after the first presidential debate in early October.
Official results are yet to be declared.