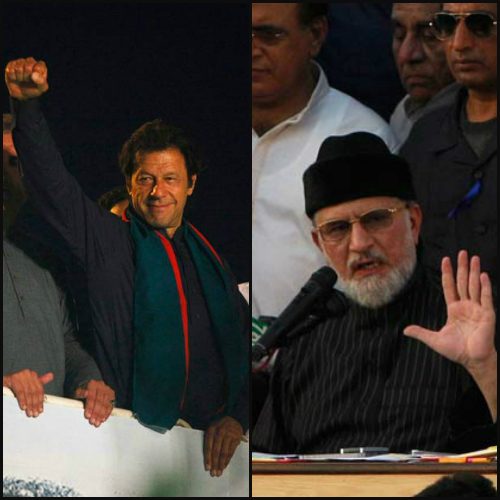 Last week, thousands of protesters in Pakistan advanced on to the capital, lead by cricket star-turned-politician Imran Khan and activist cleric Tahir ul-Qadri, to demand the resignation Prime Minister Nawaz Sharif. Since then the country has been under constant vigil fueling political tensions and the risk of another military coup.
Last night, the Imran Khan-led faction of the protest, called as the Azadi March, stormed in to Islamabad's heavily fortiefied Red Zone, threatening to even storm into Sharif's residence if he refuses to step down. The prime minister did agree to meet him, however, talks are yet to culminate into concrete steps.
Here's a little insight into the purpose and significance of the ongoing protests and the stakeholders involved:
Who is Imran Khan?
* Imran Khan is a former international cricketer-turned-politician, who launched the Pakistan Tehrik-e-Insaf (PTI) party in 1996.
* His was the only party candidate to win a seat in the 2002 elections.
* However, the PTI boycotted the 2008 vote
* His party has 34 of the national assembly's 342 seats, making it the second-biggest opposition group
* Khan's 'change agenda' was to sweep away the rampant corruption plaguing Pakistani politics, in part by calling for an end to foreign aid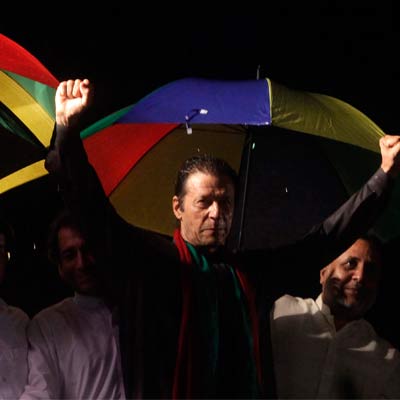 * He has capitalised on anger against US drone strikes in Pakistan's tribal areas
* He was the most successful Pakistani cricket captain, leading his team to their only World Cup triumph in 1992
* He also developed a reputation as something of a playboy on the London nightclub circuit during his younger days
* At the age of 43, in 1995, he married the 21-year-old British socialite, Jemima Goldsmith - the daughter of one of the richest men in the world, Sir James Goldsmith. They were divorced in 2004.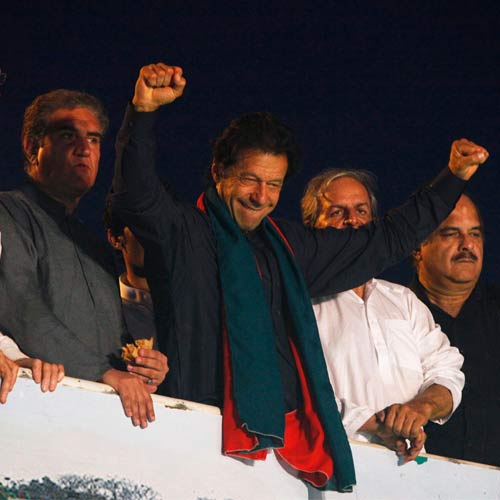 * Khan's lasting achievements has been to raise worldwide funds to set up one of Pakistan's most renowned cancer treatment facilities—the Shaukat Khanum Memorial Cancer Hospital, named after his mother. The hospital was opened in 1996, the year he launched his party.
* Khan has accused Sharif's PML-N party of vote-rigging in the 2013 election and has called on him to stand down. In a Kejriwal-like move, he has appealed for civil disobedience—which included a call for citizens to refuse to pay their utility bills or taxes as long as Sharif remains in power.
Tonite we will celebrate Azadi at D Chowk

— Imran Khan (@ImranKhanPTI) August 20, 2014
Who is Dr Tahirul Qadri?
* Qadri is Canadian-based religious scholar, and is widely known as the Anna Hazare of Pakistan
* He seeks inspiration from the rigid Wahhabi Islam practiced in Saudi Arabia. Qadri is a spiritual leader of Pakistan's largest Sunni sect in South Asia called Hanafi Islam—a moderate form of Islam influenced by the Arab, Persian and Indian mystics
* In 1989, he founded a political party called the Pakistan Awami Tehreek (PAT
* In 1990, members from the PAT contested for the general elections and later on Qadri was elected as a member of the National Assembly
* However, he resigned from his seat on Nov 29, 2004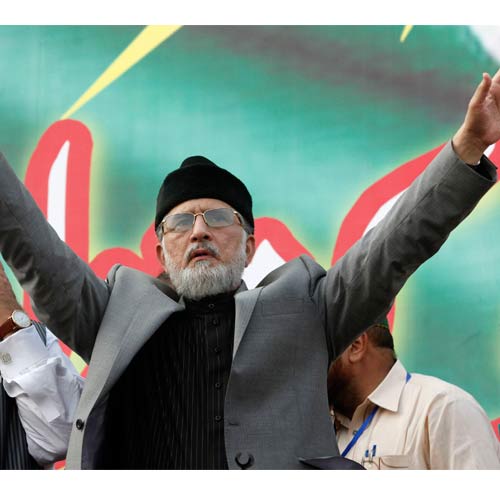 * He migrated to Canada in 2005 and acquired the North American state's citizenship.
* Qadri addressed a large audience at the Minar-i-Pakistan, in 2012, saying that the current system adopted by the government had failed and if the military intervened in the future, he would be the first Pakistani to protest against it
* In 2013, Qadri led tens of thousands of people in the Million-Men March against the Zardari government, to demand changes to the electoral system, and his supporters have clashed violently with police
* Qadri's PAT party has no seat in the Pakistani parliament, yet his influence on national politics is quite palpable. The motto of the party is to end corruption in the country
ALSO READ: As Pakistan crisis puts army back in the driving seat, rapprochement with India at risk