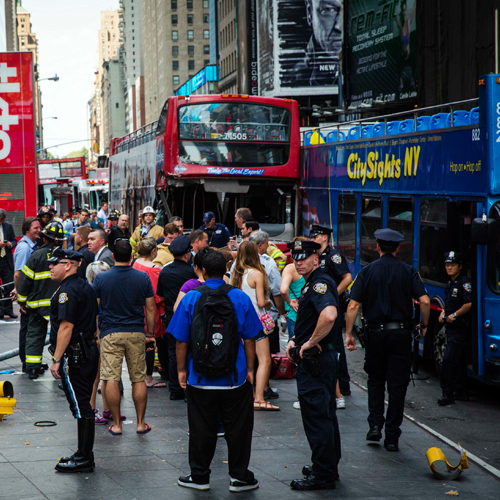 Two double-decker tour buses collided in New York City's fabled Times Square on Tuesday, injuring 14 people, authorities said.
The accident occurred a little after 3 pm (1900 GMT) at the famous intersection of West 47th Street and Seventh Avenue in Manhattan, an area of dizzying skyscrapers, theatres, flashy billboards, and teeming with tourists near the TKTS discount Broadway ticket booth.
Those hurt included at least three passengers and 11 pedestrians, a fire department spokesman said, adding that three people received serious but not life-threatening injuries. A stretch of Seventh Avenue was shut down for hours.
Witnesses said a Gray Line tour bus rolled into the area at a high speed. A fire department spokesman said the bus then collided with another bus.

A yellow traffic light also toppled, its metal pole lying on a pedestrian strip. The spokesman declined to give other details pending an investigation.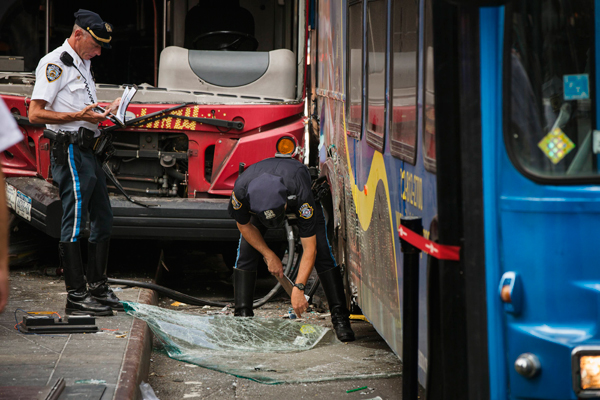 An officer from the New York Police Department inspects a shattered windshield at the scene of a collision between two tour buses in New York's Times Square on Tuesday, August 5, 2014. Image credit: Reuters
With inputs from agencies.